What are Charms?
Charms are special items that can be attached to an Axie card, imbuing them with unique powers to enhance Axie Cards. Each card can only hold 1 Charm, and it can be obtained through Crafting. More information about Crafting can be found in the Crafting Guide.
Charms provide various enhancements, from increasing basic stats like DMG or HP, to more powerful effects like reducing the card's energy cost.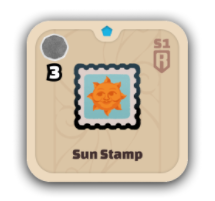 Example of a Charm
Each Charm has a:
Class:

Beast - Plant - Aqua - Bug - Reptile - Bird - Mech - Dusk - Dawn

and

Neutral

Rarity:

Common - Rare - Epic - Mystic
Class Charms can only be installed onto abilities of a matching Class. However, Neutral Charms can be installed into any ability. Each Charm that's installed will decrease an Axie's Potential Points. View the Potential Points Guide for more details.
Some special Charms cannot be crafted, and can only be obtained through various game modes and events.
Charms can be NFT or Non-NFT, and can be Seasonal or Nonseasonal.
Sealed Charms & Ronin Charms
Most Sealed Charms (Non-NFT) will be Neutral and cannot be traded, while most Ronin Charms (NFT) will have a specific Class and NFT Charms can be traded on the Marketplace. You can learn more about Ronin Charms here.
Seasonal Charms & Nonseasonal Charms
In every new season, new Seasonal Charms will be added to the game. There are also Nonseasonal Charms, but they will rarely be added. With every new season, some older Seasonal Charms will be retired, while Nonseasonal Charms will never be retired. It is also important to note that Nonseasonal Charms are generally weaker than Seasonal Charms.

Deprecated Charms cannot be crafted or used in battle, but can still be kept in your collection or disenchanted to get Moonshards and SLP.