What is Collab.Land?
Collab.Land is a Discord bot made by the team at https://collab.land. It will detect the assets you own in your Ronin wallet and assign Discord roles based on that ownership. These roles determine which channels in the Discord can be accessed by the owner.
Do Not Enter Your Secret Recovery Phrase
No step in this process requires your secret recovery phrase (seed phrase). In fact, we never need your secret recovery phrase see How to Keep Your Account Secure for more information.
Connecting More Than One Ronin Wallet
For now, you can only connect one Discord account with one Ronin address. We are looking into expanding this so that you can connect one Discord with many Ronin addresses.
Current Roles and Their Requirements
| | |
| --- | --- |
| Role | Requirements |
| Ronin Linked | Has a Ronin address and marketplace account |
| Lunacian | Own any 3 Axies |
| Axie Collector | Own any 10 Axies |
| Origin Axie owner | Owns at least one Axie with the title Origin |
| Land Owner | Own any plot of land |
| Verified Mystic Axie Owner | Own at least 1 Axie with a mystic body part |
| Double Mystic | Own at least 1 Axie with 2 or more mystic body parts |
| Triple Mystic | Own at least 1 Axie with 3 or more mystic body parts |
| Quad Mystic | Own at least 1 Axie with 4 or more mystic body parts |
Connecting Your Discord Account With Ronin
Below is a list of steps to link your Discord account with your Ronin wallet via the Collab.Land bot.
Join the Axie Discord https://discord.gg/axie. For now, the Collab.Land bot is only deployed to the international Axie server.
Find and select the collabland-join channel in the discord.

Inside the collabland-join channel press the "Let's go!" button

Click the "Connect Wallet" button. Make sure the webpage opens in the browser which has the Ronin wallet extension installed.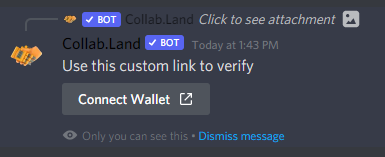 On the webpage click "CONNECT WITH AXIE"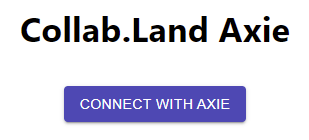 This will redirect you to the marketplace login page. Log in with your Ronin wallet just like you would normally log in to the marketplace.
You will be redirected back to a page indicating your wallet is connected. The message is below:

To confirm the roles have been added you can right-click your name in Discord and hover over the roles menu item. You should at least see the role "Ronin Linked".
Updating Roles For New Purchases
If you have purchased new assets and believe that would result in a new role you have two options. You can run through all the steps above again or you can wait a few hours until the bot checks you assets again.