The Season 6 of Axie Infinity: Origins is here! The season begins on the 4th of October, 2023.
This season included updates and changes to some card and game mechanics, as well as improvements and bug fixes.
New Starter Axies
Two new starter axies are coming to Lunacia!
These new Starter Axies were specially created to complement Buba's Rage gameplay.
Leaderboard Rewards
If you place high enough on the leaderboard for each era, you will be able to earn mAXS rewards and other cosmetics.

Bonus Rewards for Collectible Axies (Web3 Battle Pass?)
This season, owners of Mystic, Origin, Xmas, Shiny, Japanese, and Meo axies will be able to earn AXS-infused chests through active play. To earn these chests, collectors will need to reach Tiger rank during Rare era, Dragon rank during Epic era, and Challenger during Mystic era. One chest per era.
For example, if you own a Christmas axie and it's your highest tier collectible axie, you are eligible to earn one Christmas Chest per era by hitting the required ranks.
For even more clarity, a Mystic owner can earn 3 Mystic chests this season if they hit at least Tiger during Rare era, Dragon during Epic era, and Challenger during Mystic era.
We believe that with this initiative, we've officially turned collectible axies into the first web3-native battle pass. We're still experimenting and iterating here and will adjust based on data, feedback, and emergent behaviors.
The snapshot for eligibility will take right before the END of each era encouraging climbers to collect axies as well! The chests will be delivered near the beginning of the next era, so your Rare era collectible chest rewards will arrive near the beginning of Epic era.
Season 6 Eras
Season 6 has four Eras: Rare, Epic, and Mystic, and now with the addition of the Final Era. During each Era, players can craft specific runes and charms depending on their rarity level.
For instance, the Rare Era runs from day 0 to day 14, where players can only craft Common and Rare runes and charms while higher recipes are locked until the next Era. At the end of each Era, eligible winners will receive AXS leaderboard payouts according to the schedule provided. This incentivizes players to participate and put in effort throughout the entire season. The complete list of Season 6 Eras and their features can be found below.
The Rare Era
Day 1 to day 14 (Oct 4 - Oct 18)

Players can only use the Beginner/Basic crafting. No utility slots open.

Only common and rare runes and charms will be available for crafting.
The Epic Era
Day 14 to day 28 (Oct 18 - Nov 1)

Intermediate Crafting unlocked. All utility slots open.

Only Common, Rare, and Epic runes and charms available for crafting and trading.
The Mystic Era
Day 28 to day 35 (Nov 1 - Nov 8)

Master Crafting unlocked.

All runes and charms are available for crafting.
The Final Era
This Era will last for 2 weeks and feature a special Top 8 tournament! (Nov 8 - Nov 22)

The Final Era begins after the Mystic Era

Top 8 players on the leaderboard will face off in a tournament to end the season!
Game Mechanics Update
Participation Rewards in the Arena
Players will receive a portion of their potential rewards even when defeated in battle (Stamina must have been spent to qualify for these rewards). This means that even when you lose a Ranked match in Origins, you will be eligible to get some medals. This includes players who surrender the match.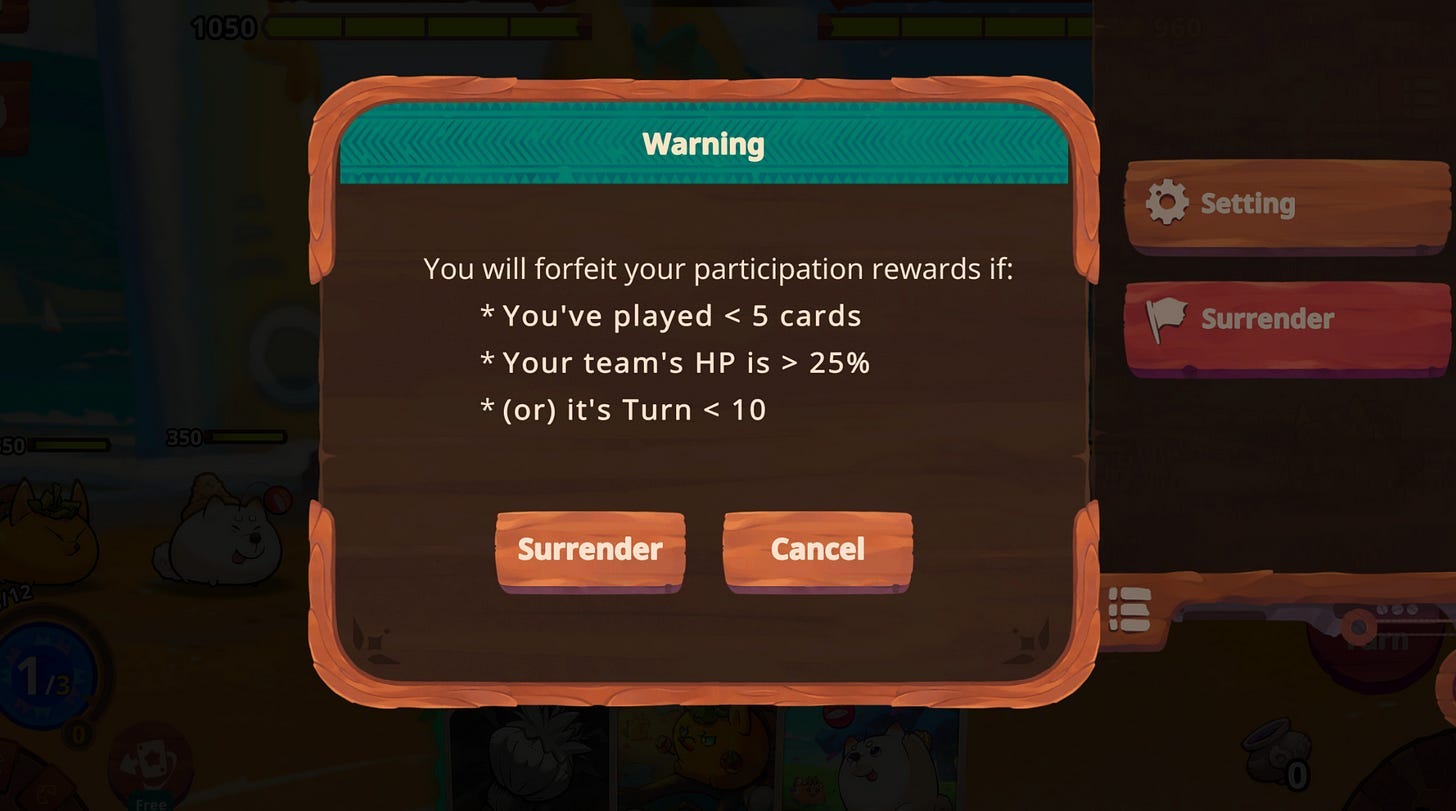 However, there are clear guidelines for receiving your medal rewards when Surrendering. You must meet the criteria stated in the image above.
This change will help players have a more rewarding experience when playing Origins. We're excited to see how this change affects the leaderboard grind!
Reduced Turn Duration
Again, time per turn has been reduced from 60 seconds to 45 seconds. This is to encourage faster, more decisive gameplay, and reward adaptable players. While this change might take a little bit of getting used to, the community has long been clamoring for more fast-paced matches. We'd love to get some feedback on this change as we go through the season.
Reworked Energy Burst Scaling
We've reduced the required number of Energy Fragments for each Energy Burst This helps improve the pace of the game and allow players to develop their positions more quickly.
Bonus Energy Fragment from Leftover Energy
1 Bonus Fragment is gained when converting any amount of leftover energy. This allow players to strategically manage their resources during low-risk situations.
Removed Player 2's Free Keep
This was done to provide each player with a unique value proposition for their play order. It also helps further improve the P1 vs P2 balance.
Cleanser, and Dispel Rework
These effects will now remove stacks or turns individually rather than in batches. This provides more guaranteed value by avoiding over-cleansing or over-dispeling.
Check out the complete balancing update for Season 6 by clicking this link. Final game balancing changes are also available in the public changelog.
Revamped Onboarding Experience
Origins is more than a game: it's a portal into our digital nation. It's our duty to carry that torch so new recruits can join us. That's why we revamped the onboarding experience. New starter axies. Faster tutorial. Simplified Account Registration process. This is how we're getting ready to welcome the next generation of Lunacians.
Tutorial Upgrades
We heard our community's feedback: the Origins tutorial was too long. That's why new players can now expect a much shorter tutorial. We've also disabled Adventure Mode (PvE) because it created barriers to unlocking certain in-game features. However, past foraging rewards are still available to claim.
When a new player registers to play Origins, they'll receive an email verification code. Once they input the code, they go through a quick tutorial with Bing and Xia. In that tutorial, they'll meet Buba, play a short Origins match, and then gain access to Origins in full.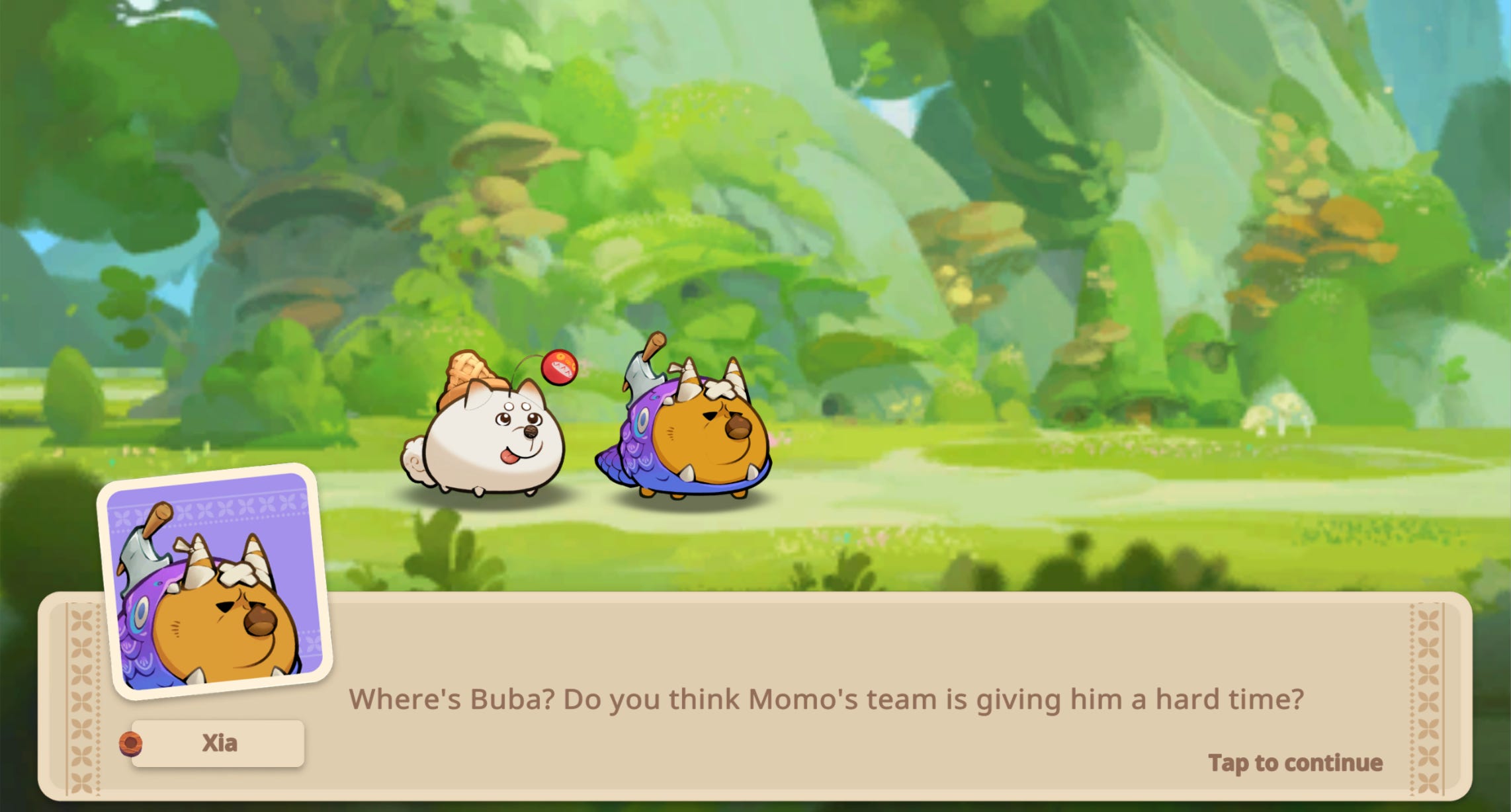 Simplified Account Registration Process
New players can now play Origins without going through a lengthy Account Registration process. This makes it easier for casual players to get a taste of Lunacia, and reduces onboarding friction.
New Account Level Reward System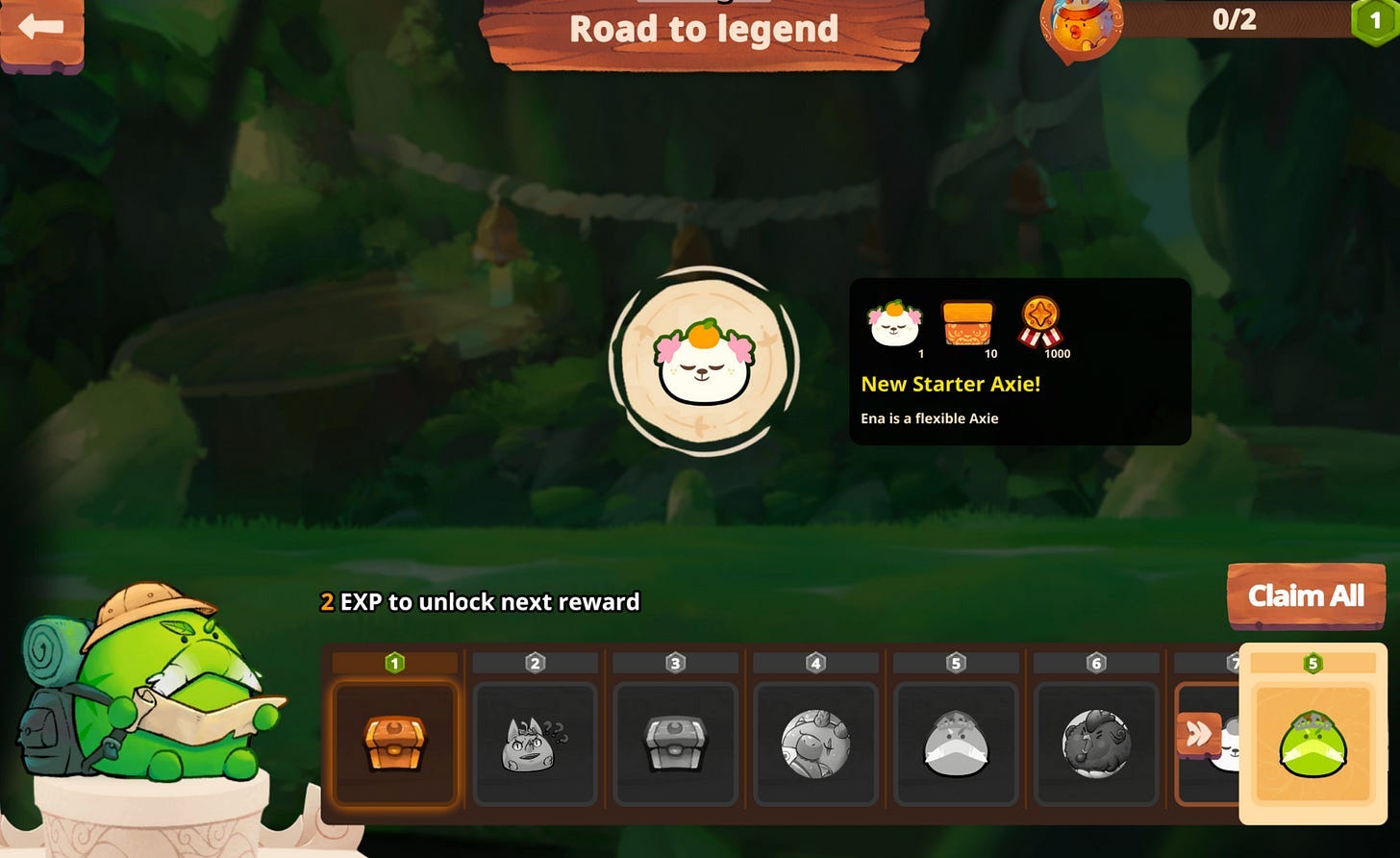 The new Account Level Reward System enables players to earn EXP – and get rewards! Unlock new cosmetics, Moonshards, Honor medals, and even starter axies by playing Origins. This system gives us a sneak peak into what an Axie Battle Pass might look like.
The new starters, Xia and Bing, can be obtained from this new reward system. Some of the older starter axies, Olek, Puffy, Ena, and Tripp, were moved from the Adventure Mode to the new reward system as well. If you have already obtained Ena and Tripp from Adventure Mode, they will be replaced with starter upgrade materials instead [this doesn't apply to Puffy and Olek].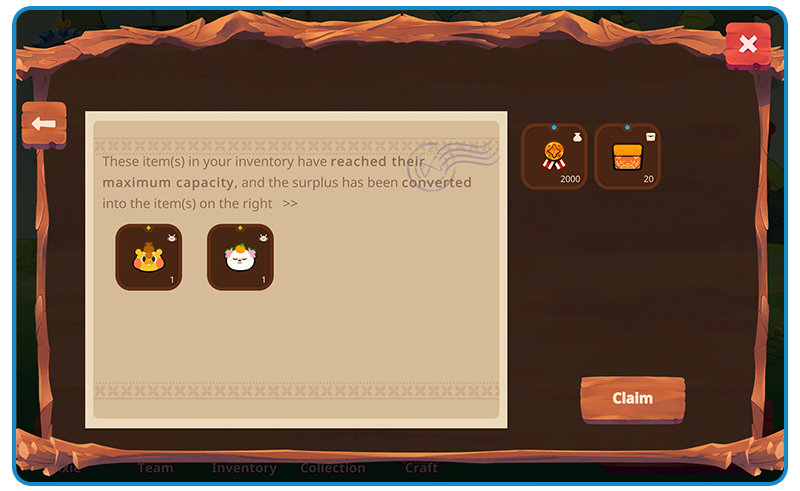 Rewards for further account levels [16+] will be added in the future.
NOTE: Existing players can claim the first batch of rewards as long as they've levelled up their account before.
Origins Portal
The Origins Portal allows players to make deposits and withdrawals of in-game assets from the game. Trainers can send SLP and NFT runes and charms from the game to their Ronin wallets and vice versa.
This allows trainers the ability to trade runes and charms that they have crafted in-game among each other.
For a step-by-step guide on how to withdraw and deposit assets, please see our Origins Portal article.
Smooth Love Potion [SLP]
Please check our Smooth Love Potion article for updated information about SLP distribution in Axie Infinity: Origins.
Disenchantment System
No changes were made to the disenchantment system for Season 6.
Season 6 Disenchantment

Rune

Disenchanted during the season it was crafted

Disenchanted when expired for 1 season

Disenchanted when expired for 2+ seasons

Rarity
Moon Shard
SLP*
Moon Shard
SLP*
Moon Shard
SLP*
Common
20
0
2
0
1
0
Rare
200
20
25
2
12
1
Epic
1,500
150
187
18
93
9
Mystic
10,000
1,000
1,250
125
625
62

Charm

Disenchanted during the season it was crafted

Disenchanted when expired for 1 season

Disenchanted when expired for 2+ seasons

Rarity
Moon Shard
SLP*
Moon Shard
SLP*
Moon Shard
SLP*
Common
6
0
0
0
0
0
Rare
66
6
8
0
4
0
Epic
500
50
62
6
31
3
Mystic
3,333
333
416
41
208
20
*Note: Trainers will only receive SLP if they used SLP to craft the rune/charm.
Please view our Crafting Guide for updated information on how to craft runes and charms.