Axies, just like real-life pets, can be bred to create even more axies. When breeding axies, the offspring has a chance of inheriting parts and traits from either parent.
Breeding Cost
Each time you breed an axie, it will cost you 0.5 AXS tokens, in addition to a varying amount of SLP [Smooth Love Potion] that is dependent on how many times your axies have already been bred. Please bear in mind that axies can only be bred a maximum of 7 times. The following table shows the SLP cost per parent at each breed count.
| | | |
| --- | --- | --- |
| Breed Count | Breed Number | SLP Cost per Parent |
| 0/7 | 1 | 900 |
| 1/7 | 2 | 1,350 |
| 2/7 | 3 | 2,250 |
| 3/7 | 4 | 3,600 |
| 4/7 | 5 | 5,850 |
| 5/7 | 6 | 9,450 |
| 6/7 | 7 | 15,300 |
AXS and Smooth Love Potions can be earned from playing the game. You can also use Katana to swap/exchange other tokens for AXS and SLP on the Ronin network.
How to Breed Axies
Step 1: On one of the axies that you will be breeding, click the "Breed" button.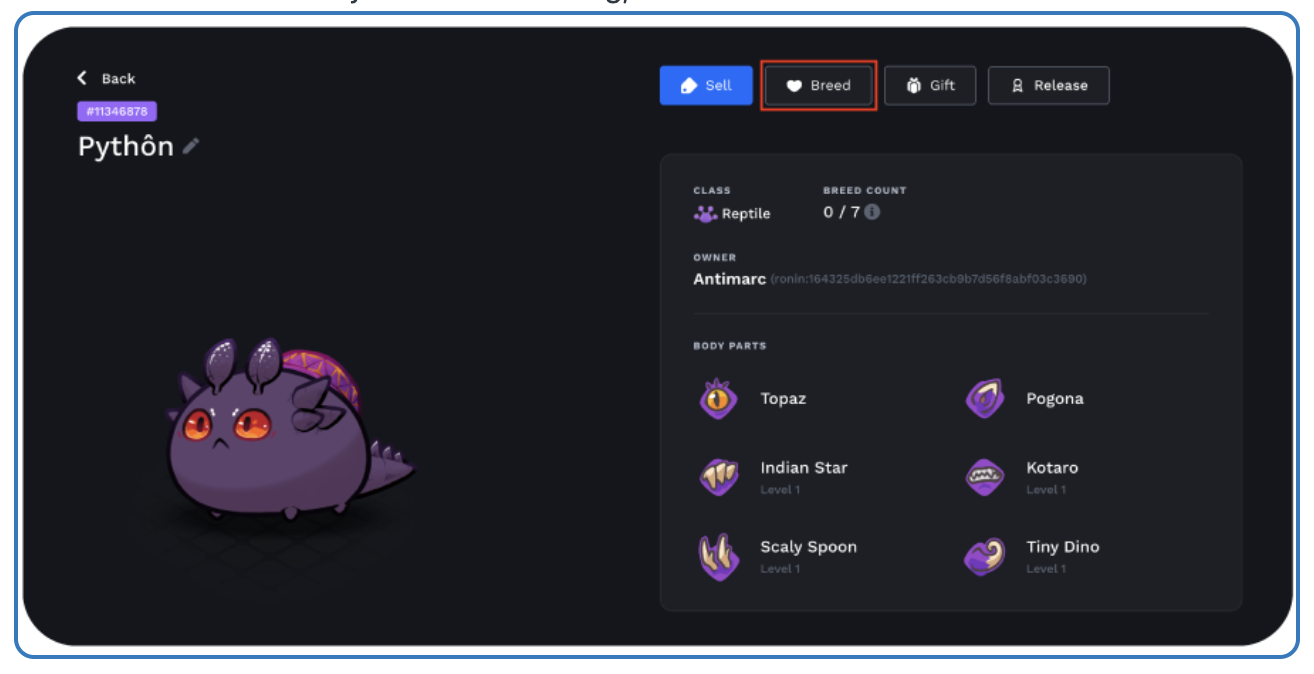 Step 2: On the next screen, select your second axie for the breeding pair.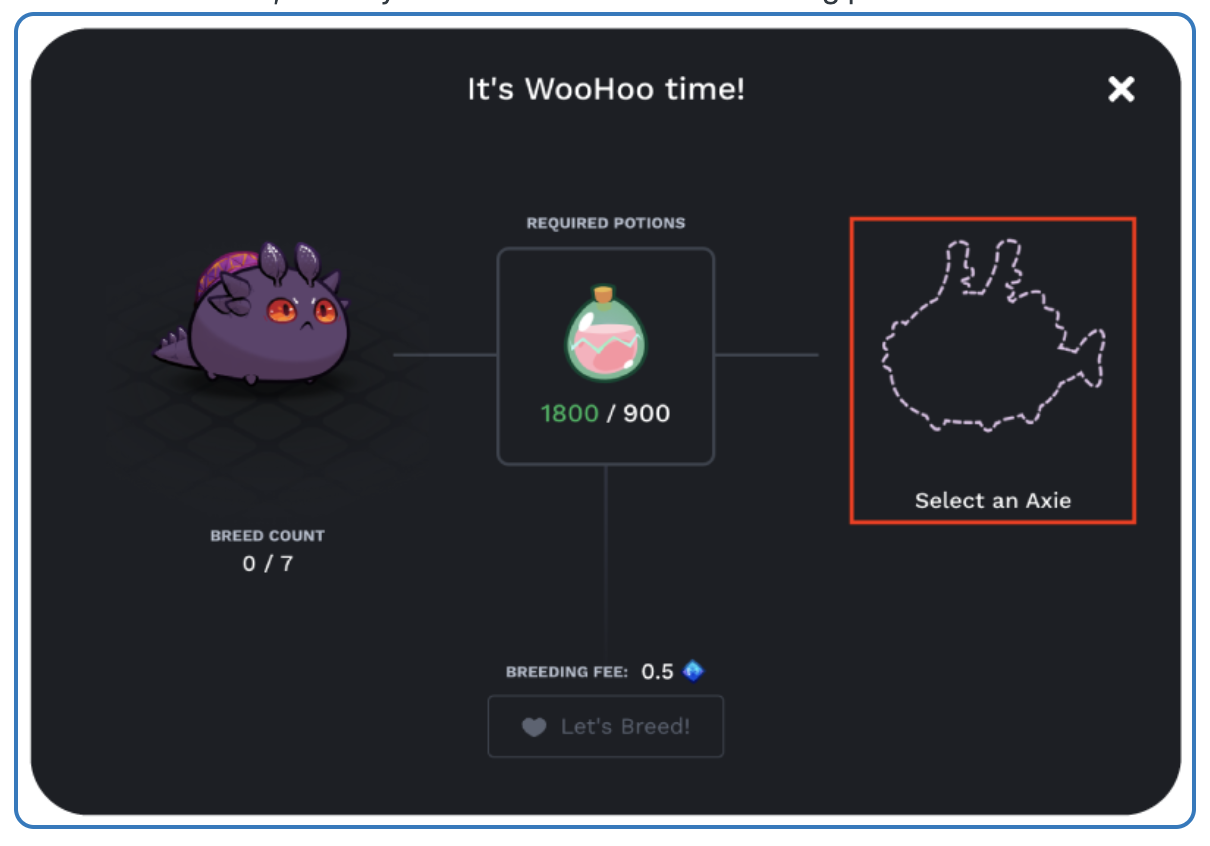 Step 3: You will then see the SLP and AXS amounts needed to breed your axies. If you have enough, you'll be able to press the "Let's Breed" button.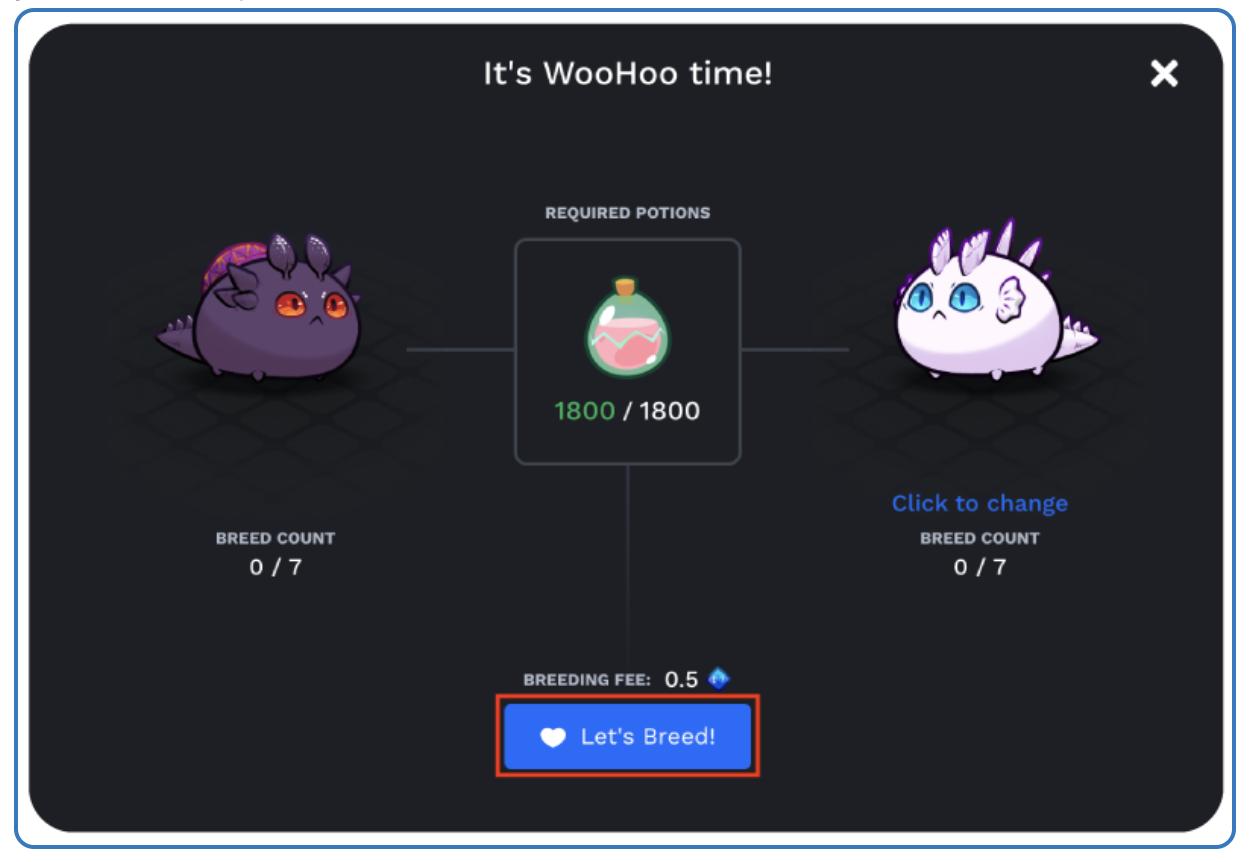 Step 4: You will then get a confirmation screen from the Ronin wallet. Click "Confirm" to sign and complete the transaction.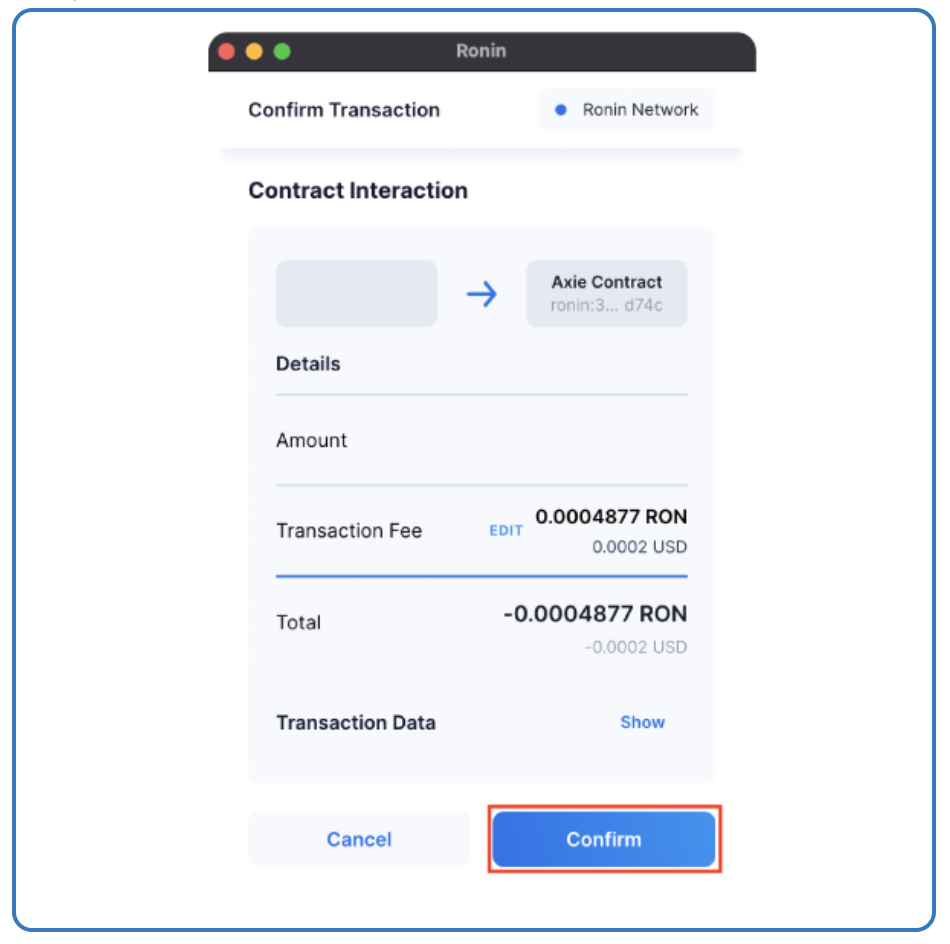 Step 5: You will see a confirmation screen after a few seconds, and an egg will then be delivered to your inventory. All newly created axies will have an incubation period of 5 days. Once these 5 days have passed, you will be able to morph your egg and welcome your new axie home.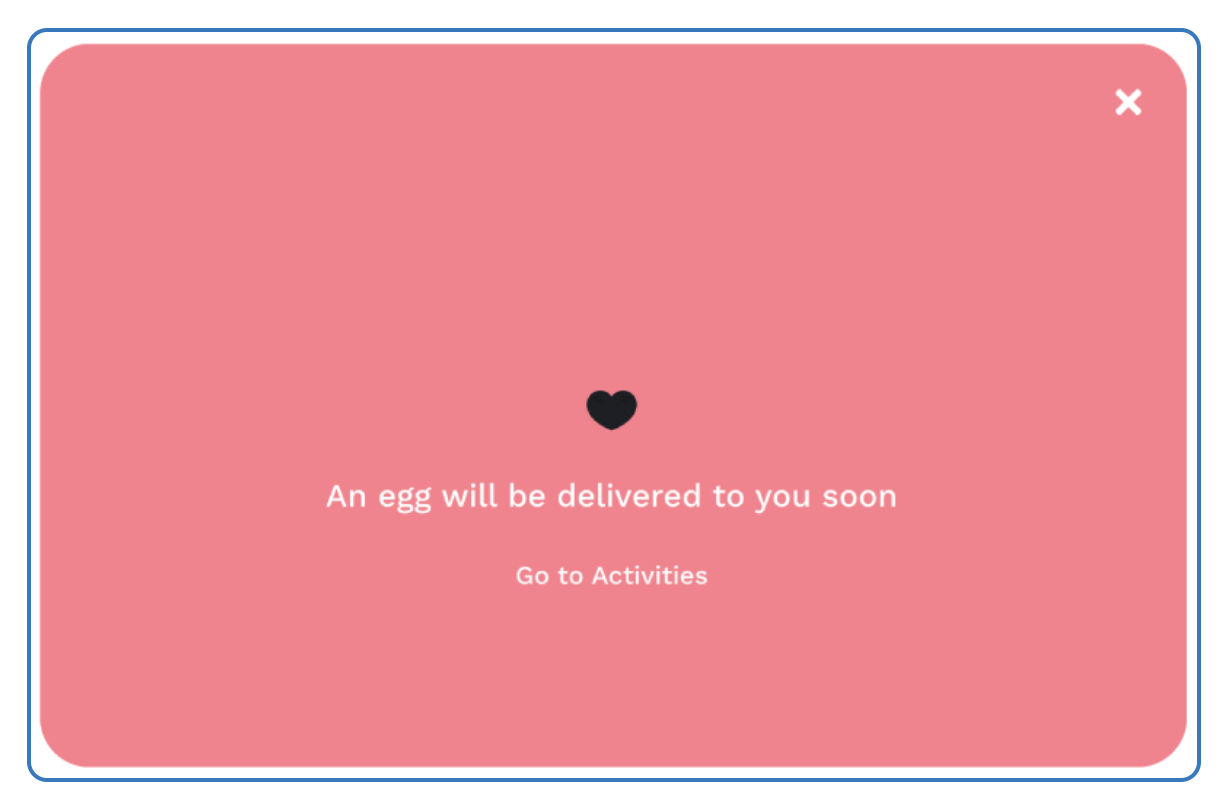 Axie Genetics
Each axie has 6 body parts, a body type, and will belong to 1 of 9 different classes.
Body Types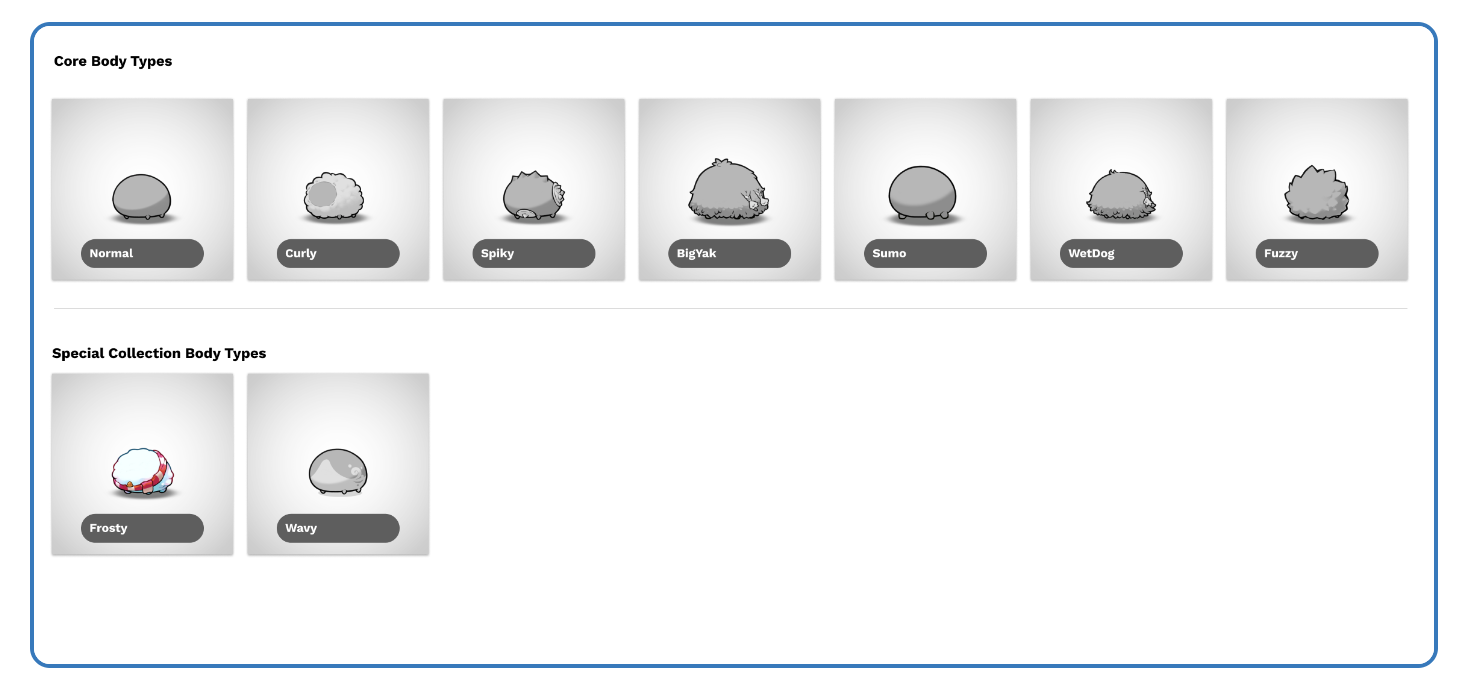 Class Types
Beast
Aquatic
Plant
Bug
Bird
Reptile
Mech
Dawn
Dusk
All axies have a genetic makeup consisting of dominant and recessive genes. These genes are expressed as dominant [D], recessive [R1], and minor recessive [R2].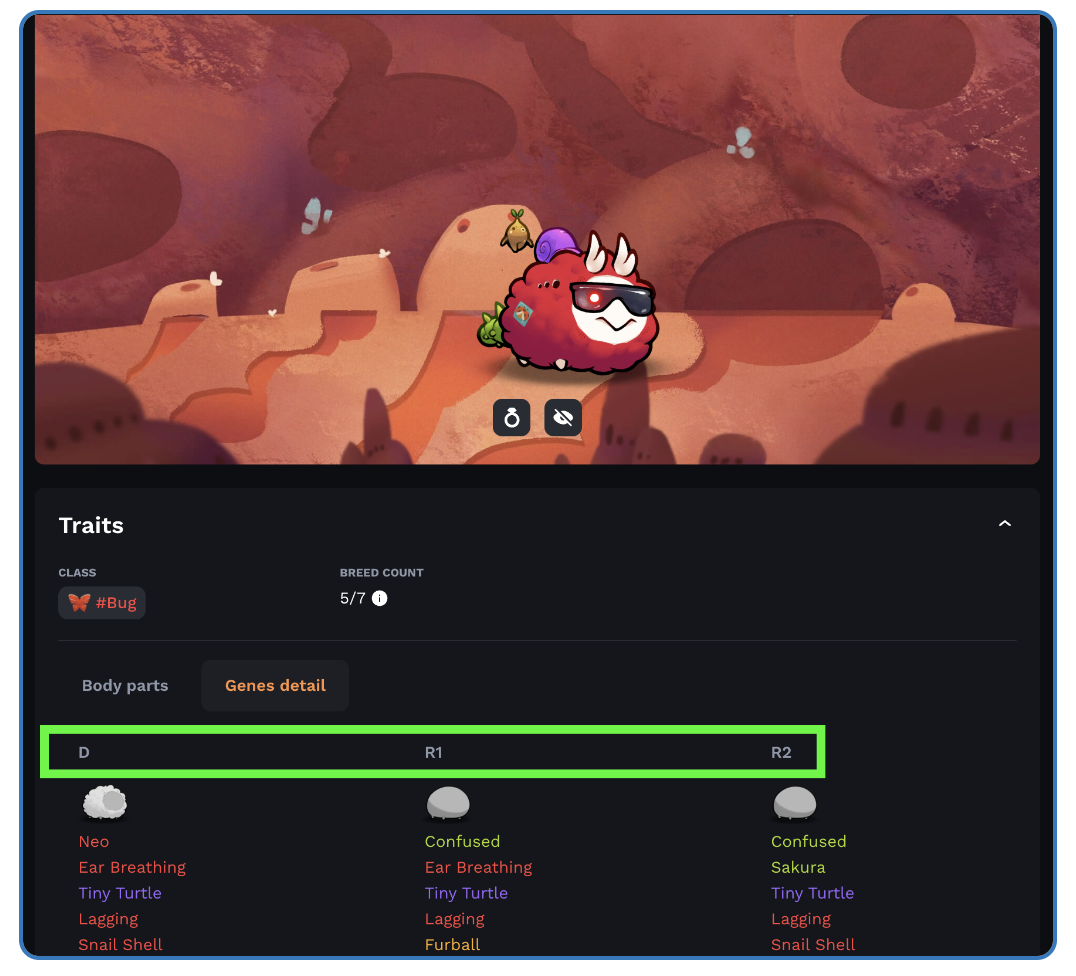 The dominant gene is what determines the axie's appearance and cards. When breeding, each gene has a percentage chance of being passed down to the offspring. Please see the following for a breakdown of this calculation:
Dominant [D]: 37.5% chance to pass this gene to offspring.
Recessive [R1]: 9.375% chance to pass this gene to offspring.
Minor Recessive [R2]: 3.125% chance to pass this gene to offspring.