What is Commonwealth?
Commonwealth is a community and communication platform built to improve discussion and engagement. Axie's Commonwealth space is a crypto native forum with features such as token gating and wallet login.
Why Commonwealth?
Commonwealth's crypto native features and polling functionality will enable the Axie Community to have exclusive conversations with AXS holders and axie collectors, while simultaneously empowering users to have thoughtful conversations in threaded forums and driving product roadmap and user feedback via polling.
Getting started with Your Ronin Wallet

Accessing Commonwealth is easy with your Ronin Wallet. Here's how:
Step 1: The first step in creating an account is by visiting https://commonwealth.im/axie-infinity and clicking the login button.
Step 2: Now click "Continue to Ronin Wallet".
Step 3: This will bring you to the Axie Infinity Marketplace where you will login with the Ronin wallet address you want to connect to Commonwealth.
Profile Setup
It's time to set up your profile! Let's get started.
Step 1: Once you are logged in, click the button at the top right of your screen that says "Anonymous" and then click "Edit profile."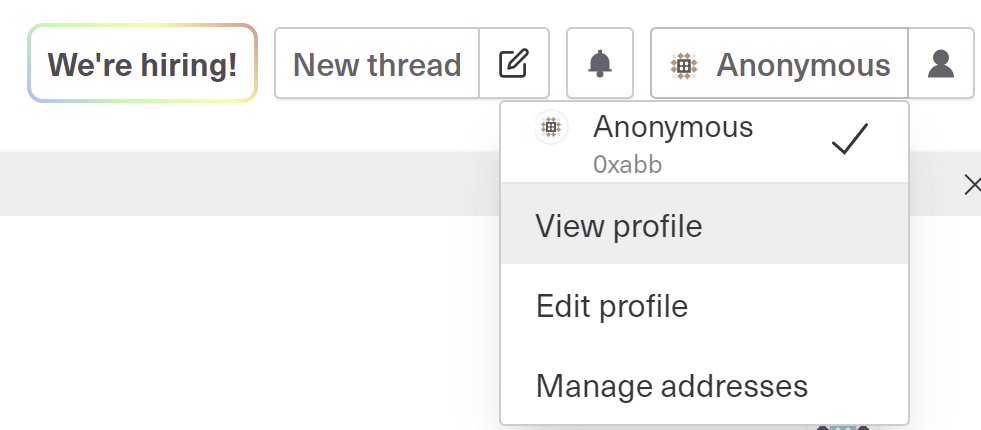 Step 2: Once on the edit profile page, you can customize your profile picture, name, headline, bio, and any community-specific options available.
Community Interaction
Forum
Long form threaded discussions are enabled through Commonwealth's forum. Threads are organized through different topics and stages set by the Axie Community admins. Axie has token gated different topics within the forum. The token threshold amount required to participate in a topic can be found in the grey banner at the top of the forum when viewing the gated topic.
In classic forum style, Commonwealth enables commenting & up-voting on all threads, allowing for a clear flow of ideas and conversation.
Commonwealth's polling feature within the threads will serve as a great feedback tool for community members to vote on game features and roadmaps.
Notifications
Click the human emoticon at the top right to control your Notification Settings.

In your "Notification Settings" tab, you are able to specify whether or not you want to receive notifications for specific events. If you link your email address to your account, you can also receive email notifications about Axie Infinity forum activities.

You can follow along with all of the activities in a single thread by clicking "Subscribe to notifications" on the thread's drop-down menu in latest view.

Protecting Yourself From Scammers
Never share your secret recovery phrase with anyone! There are many scammers that will impersonate popular services or pretend to be support team members.
Please keep in mind that you seed phrase will never be needed by anyone, for anything. Your seed phrase should only be entered in the official Ronin wallet app or extension for account recovery purposes.
Any giveaways/promotions will be announced on official channels. We will never DM you for a "special promotion".
Always use the official Marketplace

for transactions. We do not recommend (OTC) / Player-to-Player (P2P) trading at all and do not allow posts for this activity on our forums.

Keep discussions relevant to the channels; occasional deviation will happen, and moderators will use their discretion where applicable.
Form Guidelines
Please review our Code of Conduct here.

You may not post anything digital that belongs to someone else without their explicit permission. You may not post descriptions of, links to, or methods for stealing someone's intellectual property (software, video, audio, images), or for breaking any other law.




Moderators have special authority; they are responsible for this forum, but so are you. With your help, moderators can be community facilitators, not just janitors or police.

When you see bad behavior, don't reply; just flag it. Acknowledgment may encourage bad behavior, consumes your energy, and waste everyone's time. If enough flags accrue, action will be taken, either automatically or by moderator intervention.

In order to maintain our community, moderators reserve the right to remove any content and any user account for any reason at any time. Moderators do not preview new posts; the moderators and site operators take no responsibility for any content posted by the community.