The Account Management site allows users to disconnect their Ronin Wallet address from their Sky Mavis account. Please see the following link to access the Account Management website: https://accounts.skymavis.com/.
How to Disconnect
Below are the steps to disconnect your Ronin Wallet address from your account:
Step 1: Login to the Account Management website using your email address and password or Ronin wallet.
Step 2: Click "Disconnect".


Step 3: A popup will appear. Click "Unlink now".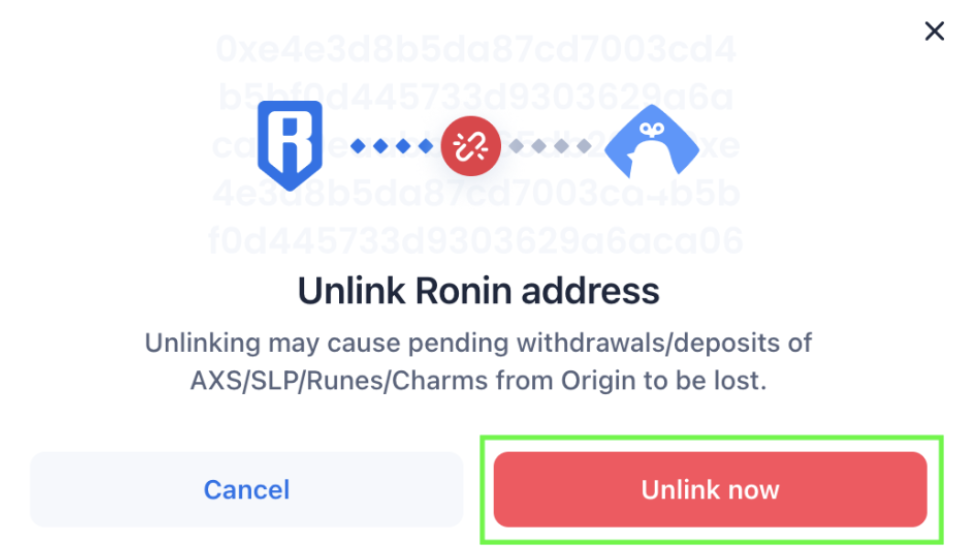 Step 4: Confirm the disconnection in your Ronin wallet.
When you try to log in again using your email address, you should no longer see a Ronin wallet address linked. And when you try to log in using your with your Ronin Wallet, there should not be an email address linked.
Note: Please keep in mind that all on-chain assets are bound to your Ronin Wallet, and not your Sky Mavis/Marketplace account. This means that when you disconnect your wallet address from the account, your account (with only email and password) will also lose its access to the assets including axies, SLP, etc.