Activity Feed Can be Incorrect
The activity feed does not confirm with the Ronin wallet that the transaction was successful.
The best source of information is the Ronin Block explorer, where you can check the status of any transaction.
1. Search for your Ronin on the search bar

2. Look at the ERC 721 transfers in the tab and search for the Axie ID of interest.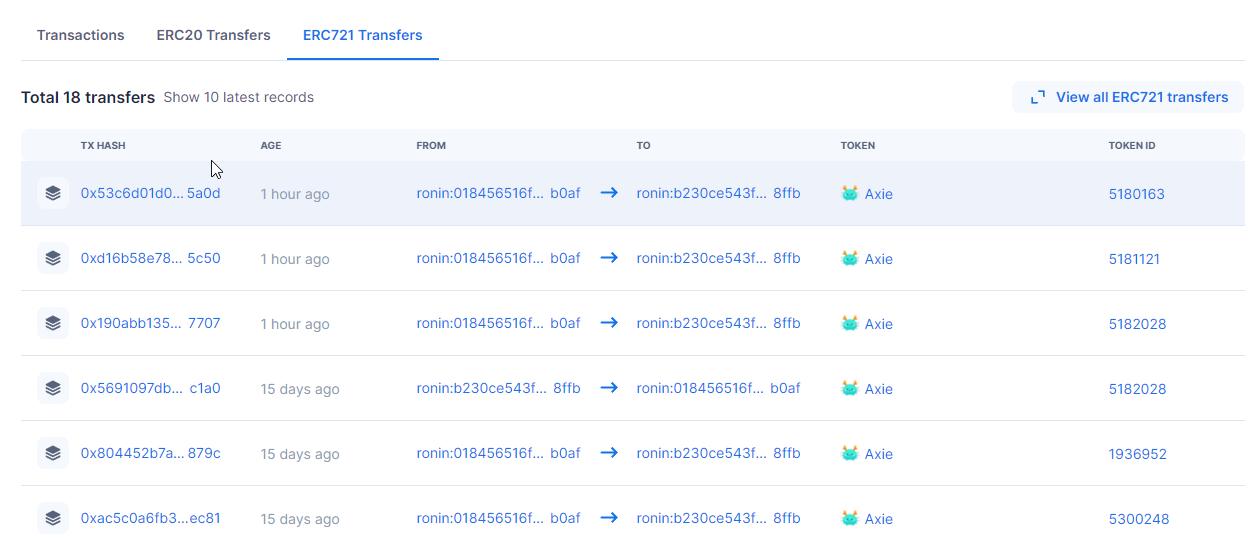 3. Click on the desired transaction TX hash, and there you will see the transaction status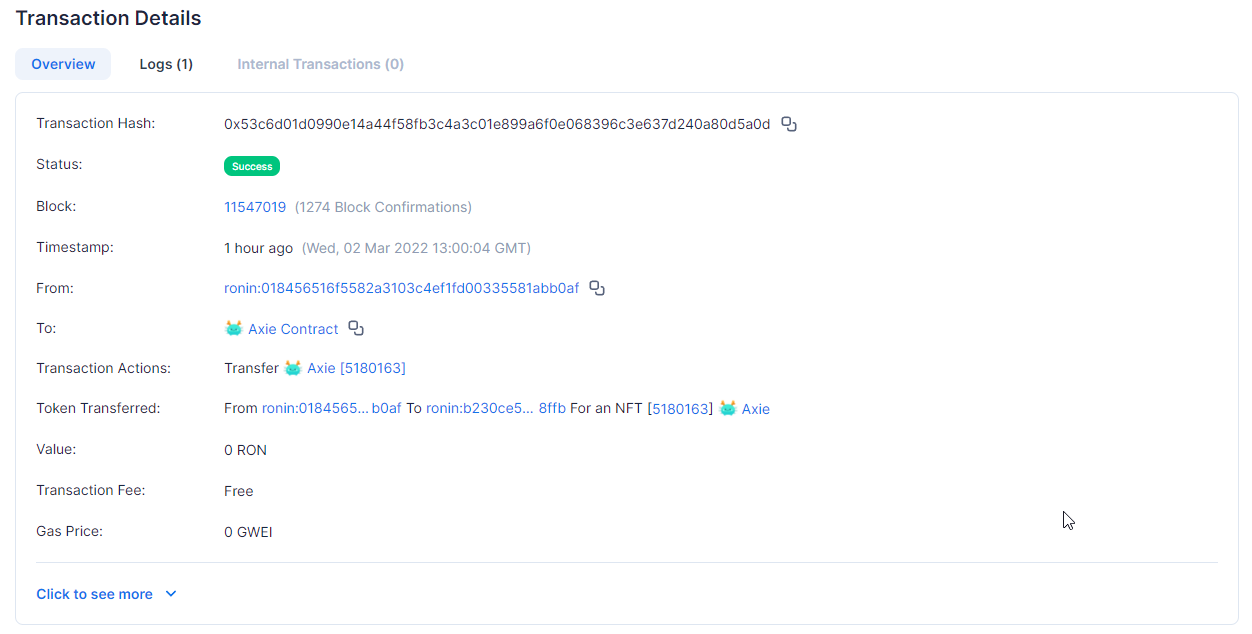 The status of the purchase in your ronin wallet can be one of four:
Successful: The Axie was successfully purchased and will arrive. See below for more information about a situation where the Axie is still not showing in your inventory, but the ronin wallet shows the correct amount of Axies.
Pending: Please see the section below "Pending Purchase" and our help article Transaction Stuck in Pending Status.
Failed: The most common reason a purchase fails is that two or more trainers try to buy an Axie simultaneously. When a transaction fails, the blockchain returns your funds. The activity feed will still say you purchased the Axie but it is incorrect.
Dropped: A dropped transaction occurs when the free validator nodes spaces are full and the transaction cannot be processed. In consequence, a dropped transaction should be treated as if it never existed, assets were never exchanged because the transaction was not validated. A dropped transaction is way more unlikely using RON.
Successful Purchase but Axie Is Not in Inventory
Occasionally an Axie will be successfully purchased, but it does not arrive in your inventory. This situation can occur during periods of heavy marketplace usage and will resolve itself. In the worst case, it will take up to two days for the Axie to show in your inventory.
You can confirm this by looking at the number of Axies owned in your ronin wallet. If you own one more than the Axies in your inventory, then the new Axie is on its way.
In case you still did not get the Axie while the number of Axie has increased on your inventory and waited for the duration mentioned above, then you can also submit a ticket for the issue 'Bugged Axie' using this link : https://support.axieinfinity.com/hc/en-us/requests/new?ticket_form_id=1900001221324
Pending Purchase
Transactions which get stuck in the Pending status never make it to the blockchain and its like they never happened. The funds have not been taken from your wallet and the Axie was never purchased. You can confirm the funds were not taken by visiting https://explorer.roninchain.com/ and searching for your Ronin address, then review your ERC20 transactions.
The marketplace history will show that you purchased the Axie but it is incorrect. The marketplace history does not confirm with the blockchain that the transaction was successful. You always need to check your Ronin wallet activities to see the correct status.