Land items are collectible NFTs that can also be used as in-game objects to decorate your Homeland in Lunacia!
Note that Land items are currently only used as cosmetics/decorations in the Alpha build, but more utility will be added in the future.
Acquiring a Land Item
In order to use the land item on the land plot, you will first need to buy the item from the App.Axie marketplace, which can be easily found on the left side of the page by opening the side bar, click on marketplace and then select 'Items' as seen on the image below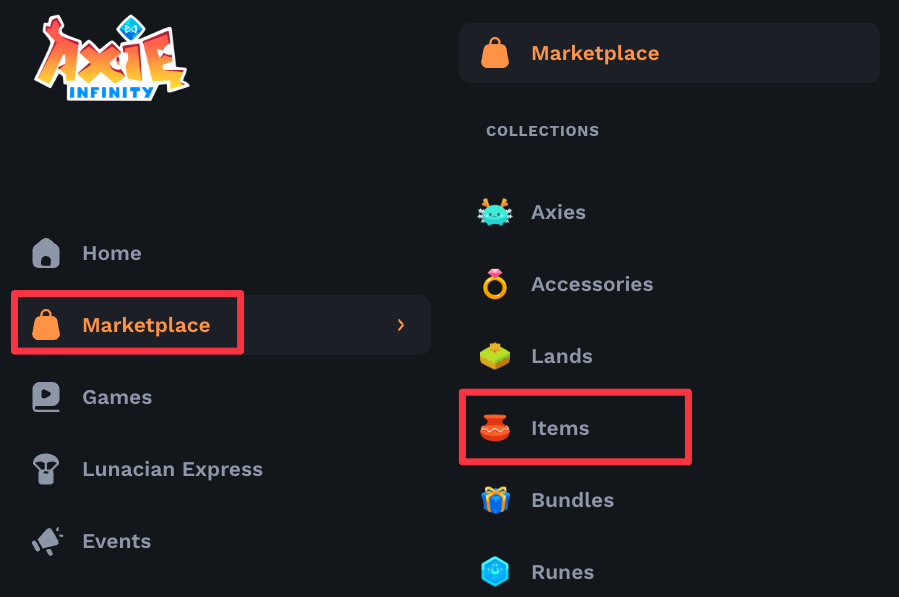 After going into the Items menu in the marketplace, you can then pick from whichever land item you would like to buy.
Clicking on the land item will take you to where you can view the price, sale history and the option to purchase that land item with selected tokens
Placing Land Items
To start placing your land items to your land plot, please follow the steps below
Go to the Build menu

Select the third tab and then select 'Decoration Library' or the 'Chest' icon on the bottom left side of the screen to access the NFT window.

In the NFT window, you will be able to select up to 10 land items for the land plot.


Once the land items have been selected, you will then be able to see it on the previous menu and you can now place the land items on your land plot!