As Homeland grows and evolves as a game, this article will serve as a guide to new land owners who are starting their journey in Lunacia.
This article will be updated regularly to account for new changes in the gameplay mechanics of Homeland.
Interface
Basics
User interface in the main game screen has the following elements: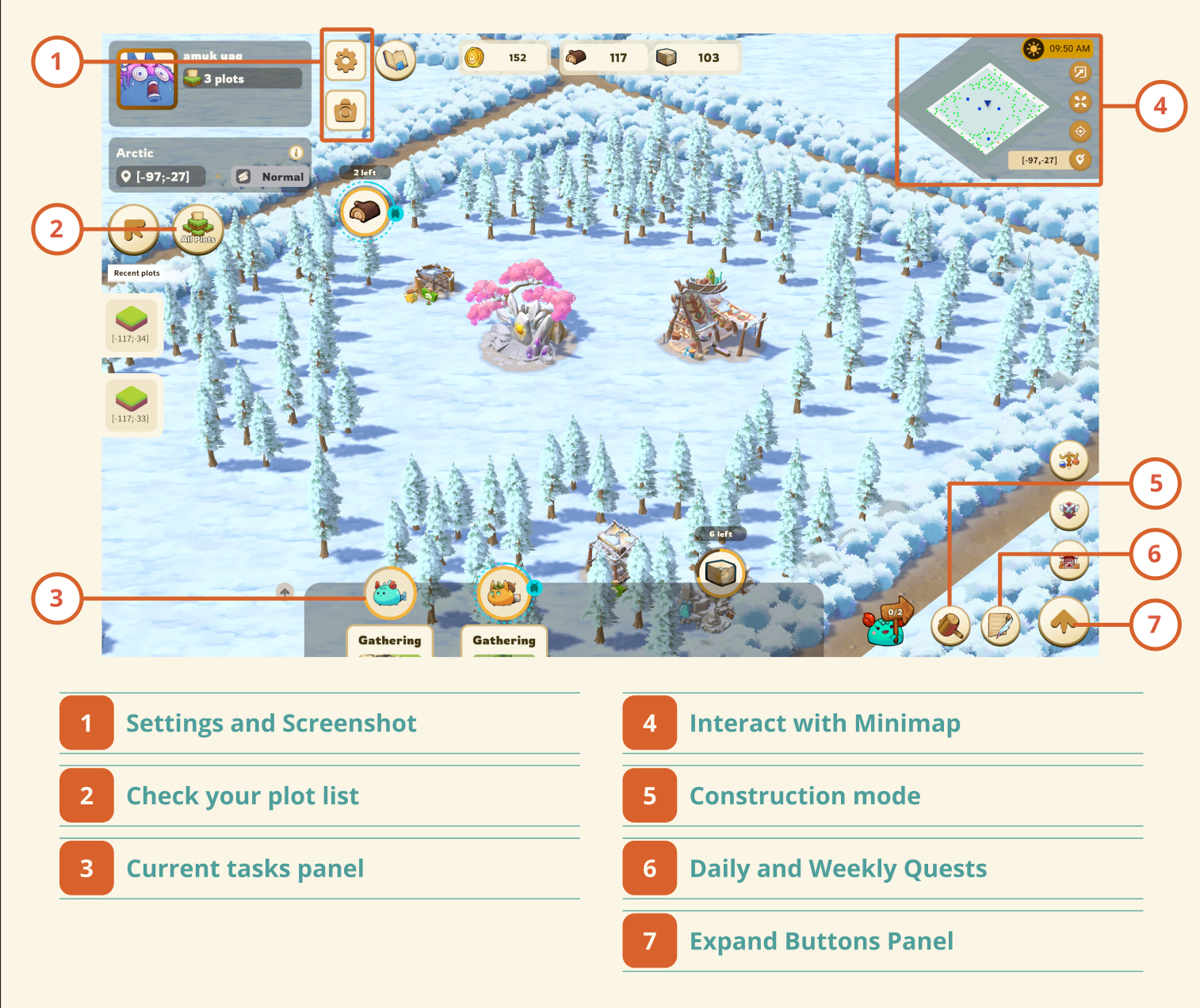 Command wheel
The command wheel will be displayed upon clicking any structure; it will present the following options:

1. Structure name 4. Upgrade structure
2. Move structure 5. Information about the structure
3. Destroy structure/Cancel construction 6. Function button (available in functional structures)
Hotkeys
These are the hotkeys that serve the most common useful tools to navigate Homeland: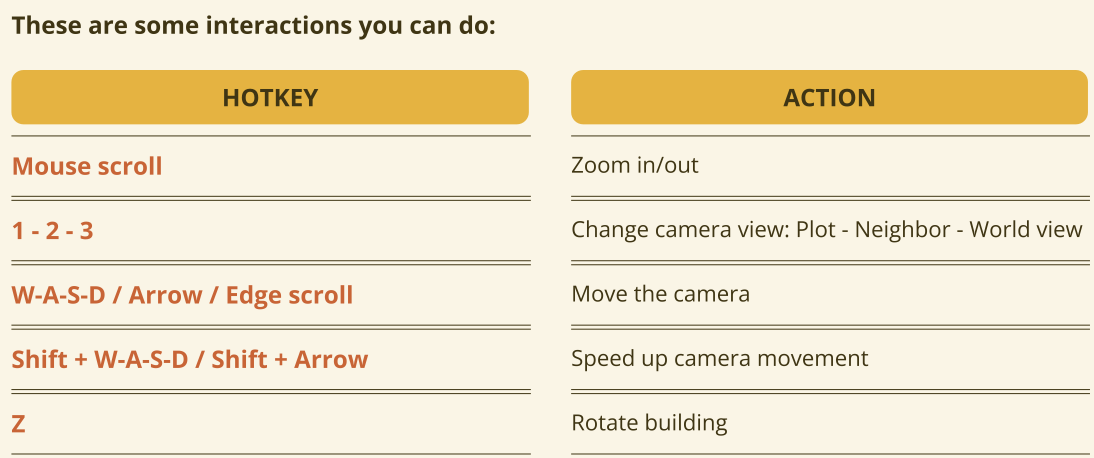 Expandable buttons list
On the bottom right side of the screen, players can find an array of buttons that can be expanded to show the following options: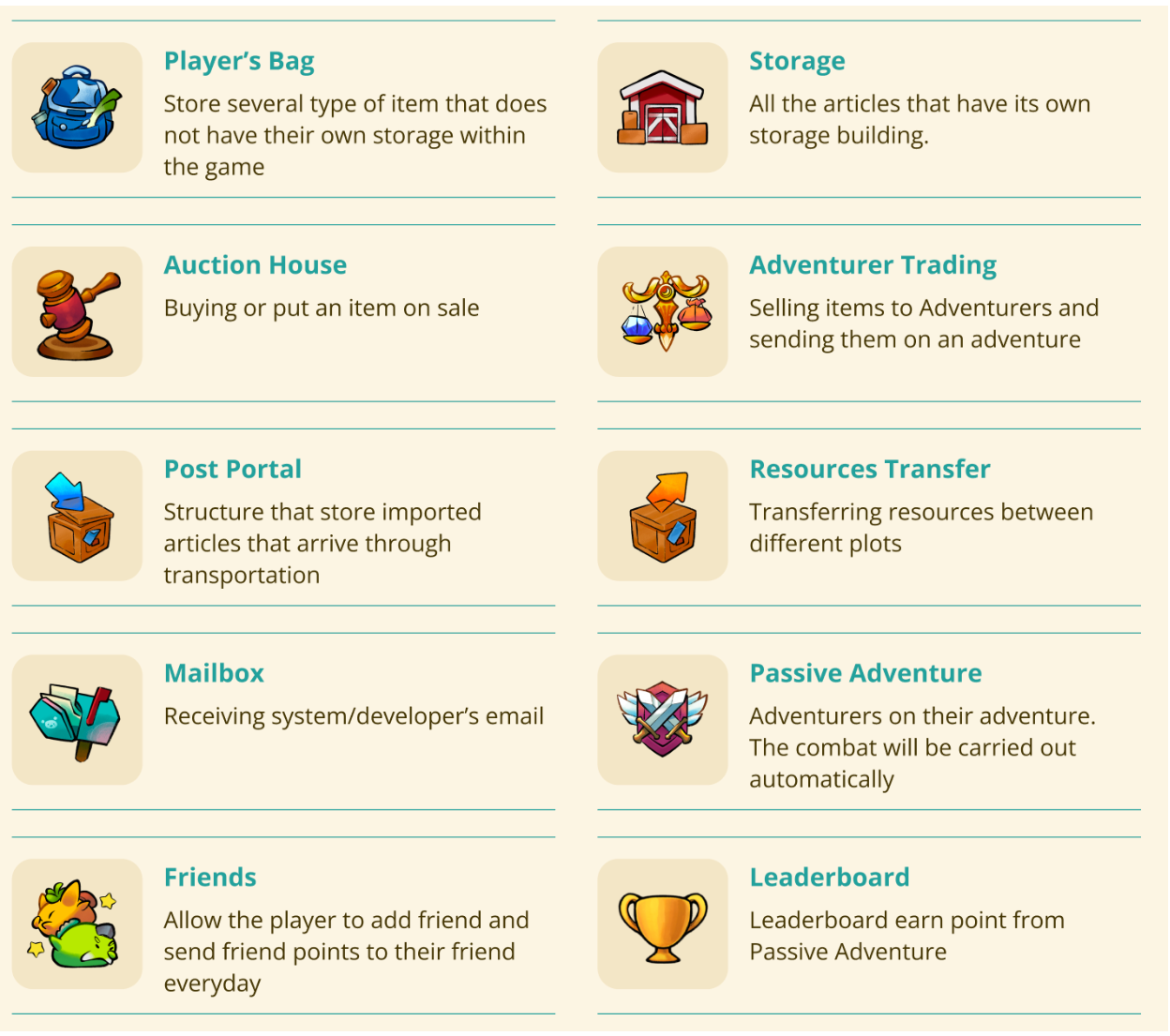 Basic Mechanics
Building Structure



Players can build, upgrade, modify and destroy buildings.

The Altar of Atia & Post Portal structures cannot be destroyed under any circumstance.

In order to build or upgrade a structure, players must have enough materials, currency and the blueprint required.

Reconstruction mode is an advanced mode for modifying structure placement.



Axie Workers



Axie Workers are used for most activities in-game (build, upgrade, gathering, trading, etc).

More Axie Workers will be unlocked with higher levels of Altar of Atia & Housing structure.

NFT axies cannot be used in-game, but more utility will be added in the future.
Gathering Material



Players can collect materials from trees and quarries on their land plots.

Players can collect materials from various material deposits in the world, including materials from the land plots of other players, as well as public resource nodes.
Note: The further the distance of the material deposits & public resource node, the longer it will take for your axies to gather these materials.
Public resource nodes are indicated as pink squares on the world map.

Players will need idle/available axies to collect resources.

Resource deposits have a limit of how much material can be gathered before they are depleted, but will respawn over time.



Producing Items



Producing is a system that processes resources into other types of resources.

The resources being produced depends on the structure and blueprint that was used to produce the item.



Crafting Items



Players can combine various resources to create new items that can be used for decorative or economic purposes.

Blueprints are needed for a crafting order and more blueprints will be unlocked with higher Altar levels.

Some items have a tier. Common < Uncommon < Rare < Epic < Legendary < Mythical



Selling and Buying



Players can list items for sale and buy necessary items in the Auction House.

When a player initiates a transaction, a transportation device will bring the requested resources in the form of an order from the plot in which it was purchased from.

Adventurer and Passive Adventure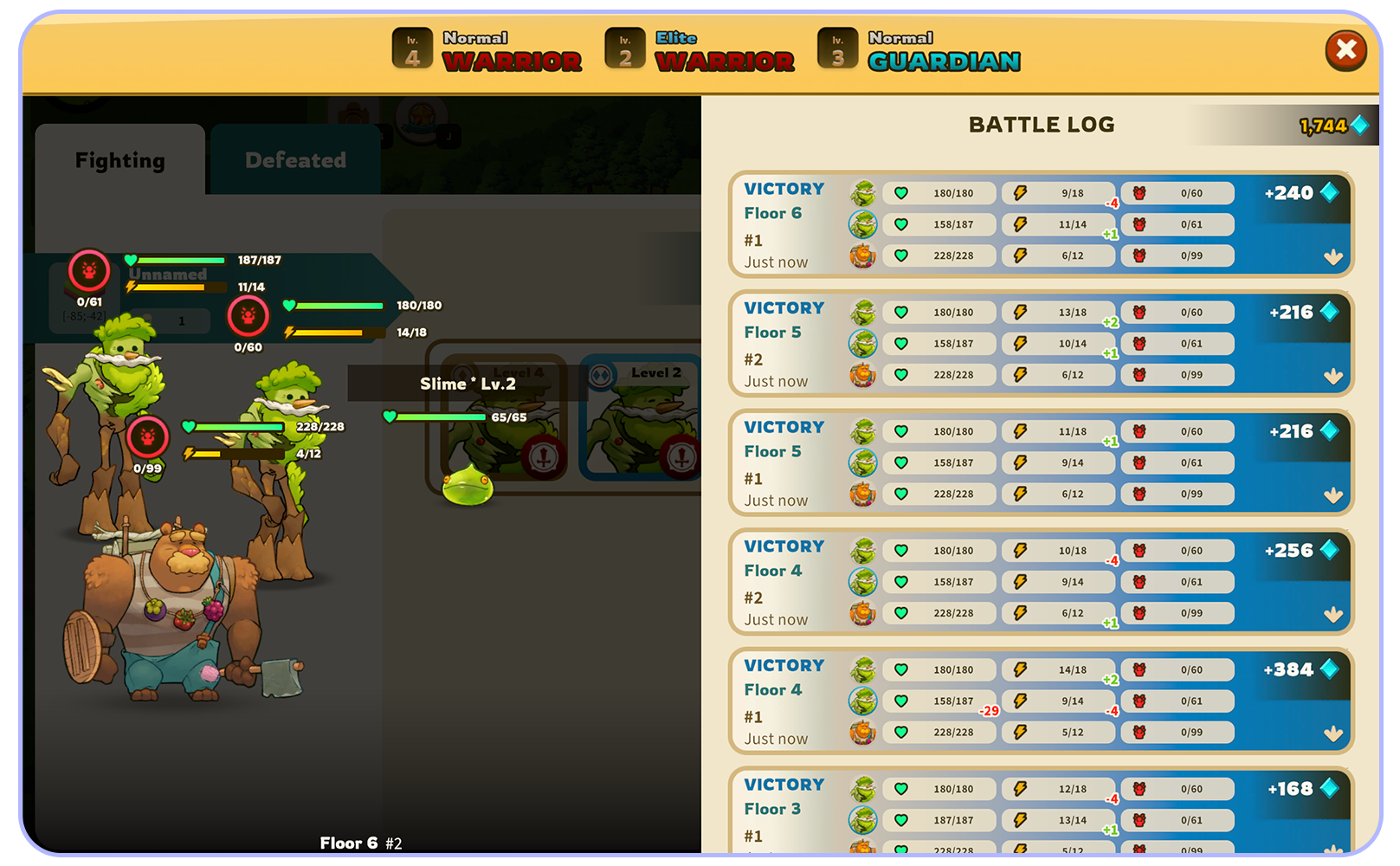 Adventurer Trading & Passive Adventure will be unlocked once you have built the Consumer's Corner & Survivor's Shop.


You will get Adventurers randomly after a period of time.

You are able to sell items and equipment to Adventurers and send them on a passive adventure.

The combat will be carried out automatically without needing the player's input.

The better the progress (higher floor level), the more points you can earn.

Leaderboard earns points from Passive Adventure.


Starting in Alpha Season 1, you will be able to form a party of up to 3 adventurers! We've also reworked a few mechanics like the overall speed of level-up gains, boss difficulty, and energy restoration. This means that gameplay will be fast-paced and new dynamics may emerge.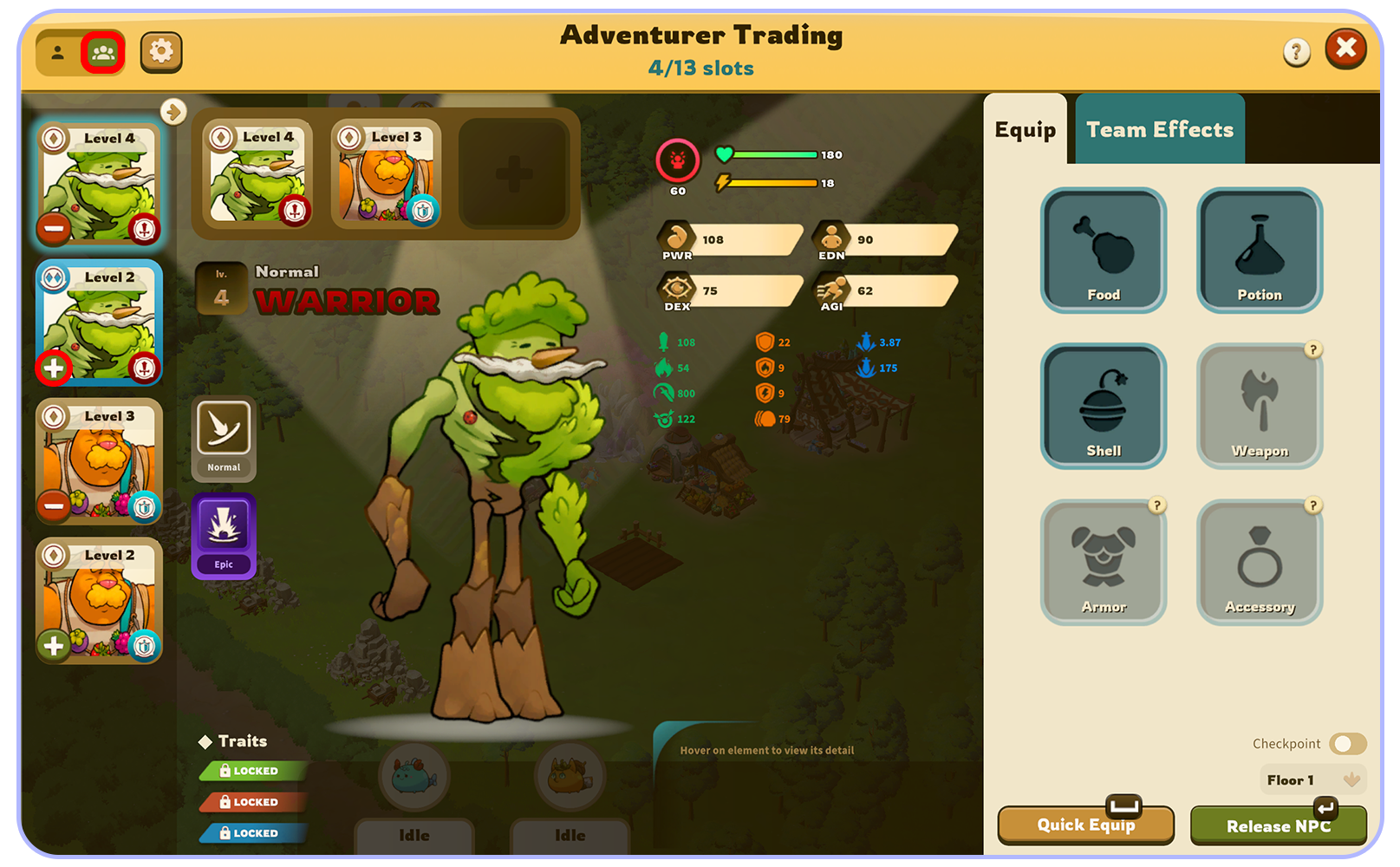 Adventurer Primary stats
Adventurer performance will depend on 5 main stats: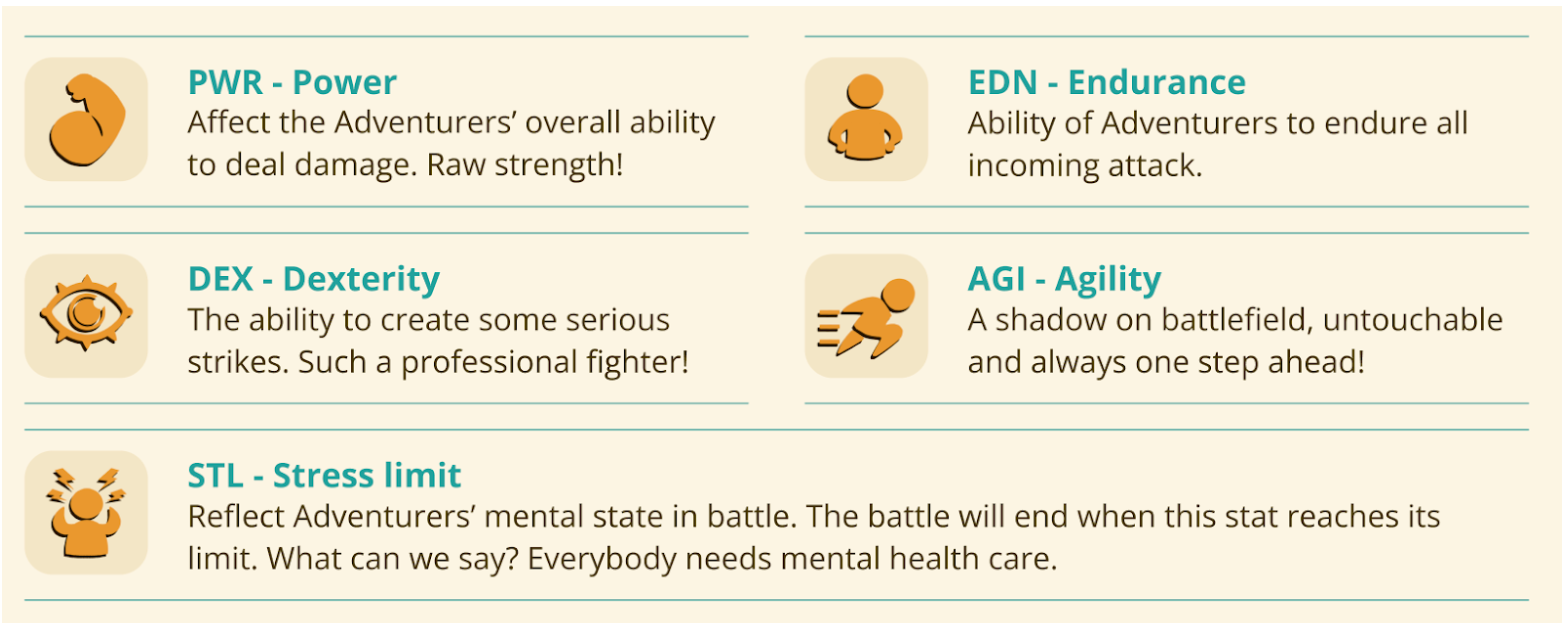 Please note that:
With higher leveled Adventurers, primary stats will increase.

Primary stats are a

ff

ected by the Adventurer's level

and

q

uality, as well as e

q

uipment and bu

ff/

debu

ff

.

These primary stats will a

ff

ect base secondary stats

.
The secondary stats are as follows:

Post Portal
When you have more than one land plot, you will be able to transfer your resources between your plots. To do this, you will need to enable "transfer resources" from other plots to this plot in the Post Portal for each land plot before you are able to transfer the resources.

Alternatively, you can also enable it through the Resource Transferring menu by going into "Plot Settings" and enabling its visibility.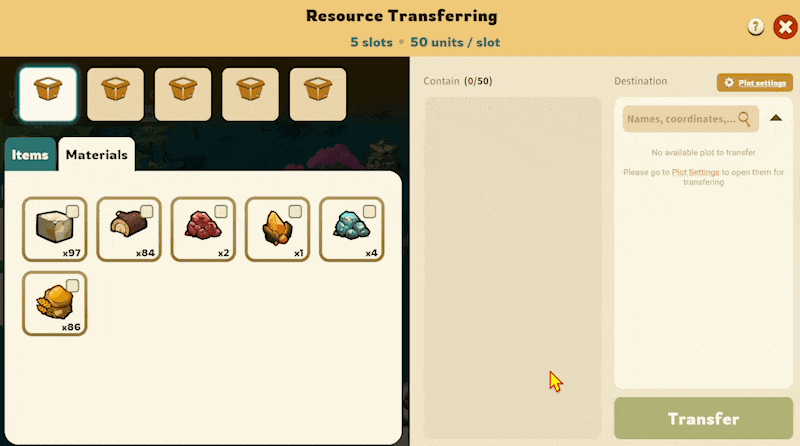 Each time you transfer items from another plot or receive items purchased through the Auction House, you will need to claim them in the Postal Portal.
Resources Transferring
Players will be able to transfer any item between plots if they own multiple land plots.

When players attempt to transfer more than one (1) slot of package, the second slot of package will be put queued until the first item is sent to the other plot and the amount of items the player has in the storage will not be reduced until it is being sent away/out of the queue.

When players have closer land plots, the time it takes for the resource to transfer will be shorter as well!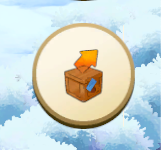 Seasonal Achievements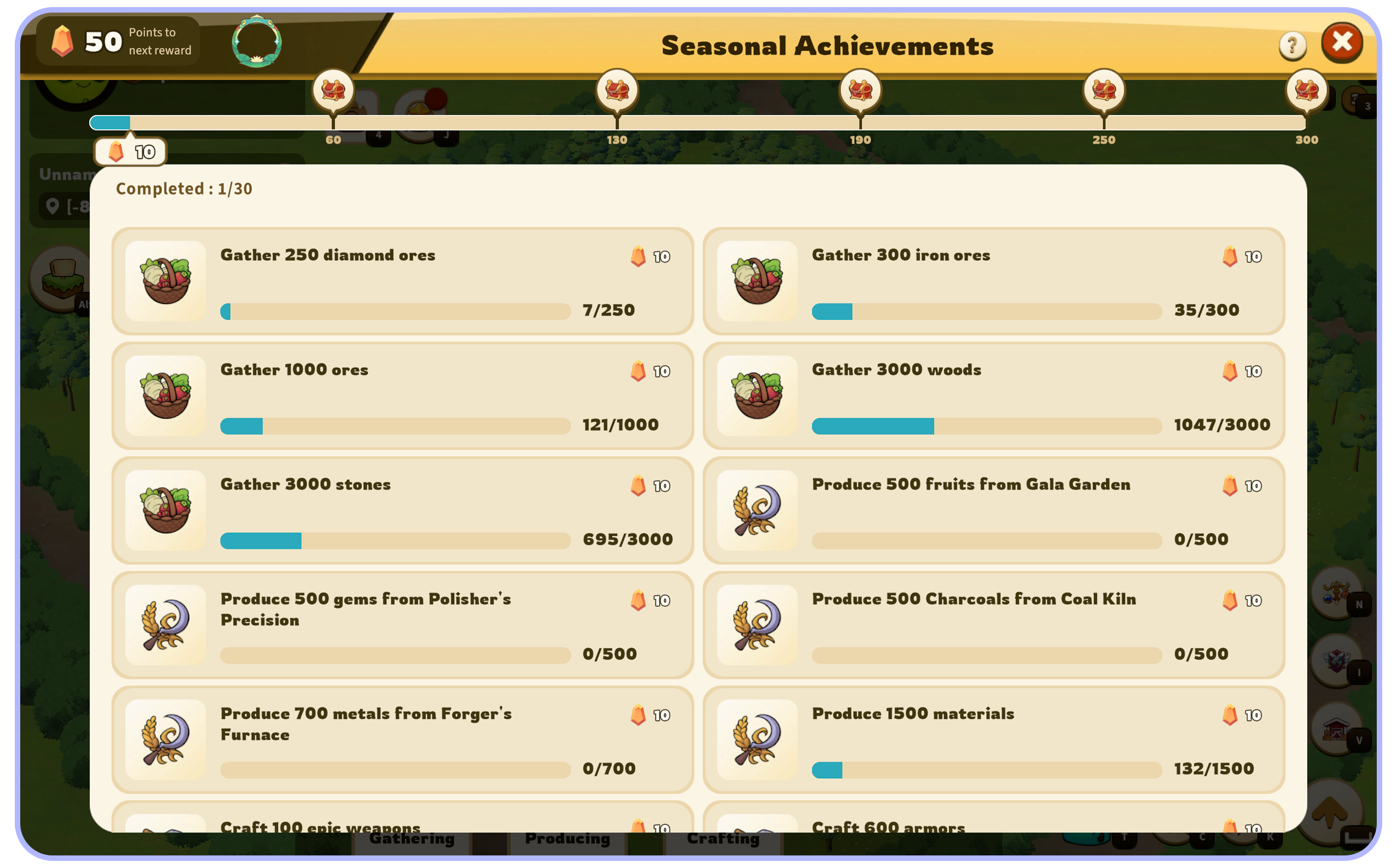 Starting in Season 1, Seasonal Achievements have been added to the game, which are a series of quests that can be completed for extra points. This will reset at the beginning of each new season and new quests will be given.
You'll receive season-exclusive rewards by reaching each milestones of that season.
Leaderboard
There are two leaderboards to keep up with in Homeland:
Land Development Leaderboard:

By gathering, producing and crafting, players can earn points and have a chance to join the Leaderboard.

The more productive you are, the more points you will earn.
Passive Adventure Leaderboard:

With every enemy defeated in Passive Adventure, you will earn points.

You can earn bonus points if you pass a floor for the first time.

Send as many Adventurers as possible to the battlefield for points, glory, and maybe a little bit of luck!