As Origins keep evolving as a game, this article will serve as a guide to new trainers who are deciding to join the fierce battles in Lunacia.
This article will be updated accordingly whenever changes in the gameplay mechanics have been implemented.
Contents:
- Turn Selection & Rock-Paper-Scissors
- Keep
In order to master the Origins gameplay, we should start by familiarizing ourselves with the game mechanics and how they work. Battles in Origins revolve around two main types of Play Mode and a friendly duel mode, namely:
Adventure Mode - player vs enemy (PvE) mode where you battle with chimeras
Arena Mode - player vs player (PvP) where you battle with other trainers

Practice - casual matchups without rewards
Ranked - winning matchups and achieving a place in the leaderboard will grant rewards
Tournament (tba)

Friendly Duels - you can invite friends in your friend list to battle it out in a casual matchup
All the mechanics explained below are applicable on all Arena mode options but not all are significant nor present in Adventure mode.
Turn Selection & Rock-Paper-Scissors
RPS
Every battle starts with both trainers deciding on their turn preferences.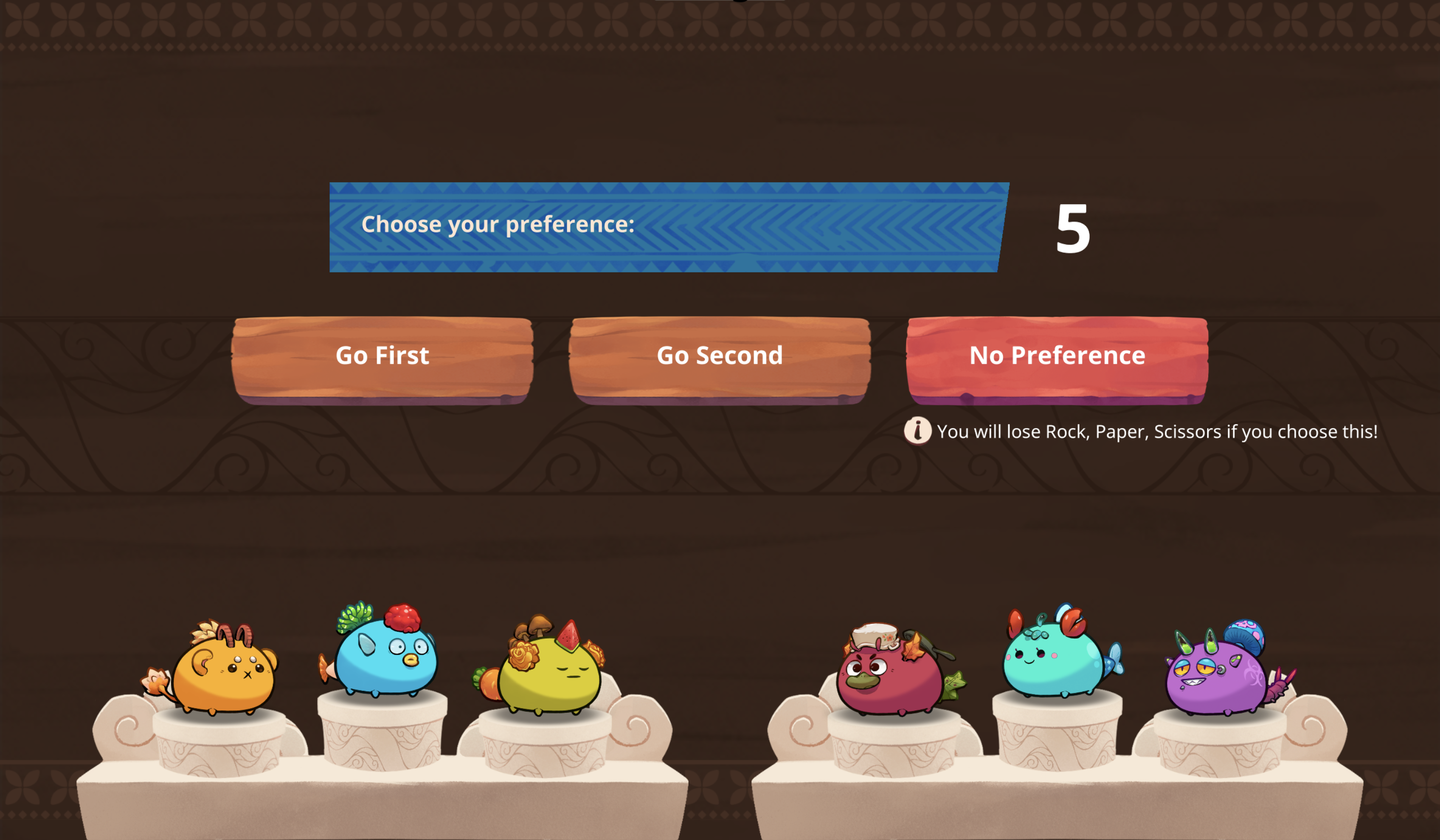 If and only if both players decide to pick the same turn preference (Go First or Go Second) will the Rock-Paper-Scissors commence.
Whoever wins the Rock-Paper-Scissors (RPS) will get the intended turn preference. Furthermore, drawing three times in the RPS will result in random assignment for both.
First Turn vs Second Turn
+ The player who goes first gains 1 Energy and draws 3 cards on their first turn
+ The player who goes second gains 2 Energy and draws 4 cards on their first turn
+ The player who went first gains 2 Energy and draws 5 cards on their second turn
+ The player who went second gains 3 Energy and draws 5 cards on their second turn
+ From this point on both players gain 3 Energy and draw 5 Cards for the remainder of the battle
Battle System
Sequential Turns
In Axie Origins, players battle each other by taking turns to use cards.
Cards and Energy
Every card in Origins has a corresponding energy requirement for activation. Any unused card and energy in a turn will not accumulate in the next turn by default during battle.
Win Condition
In order to win a battle, you need to defeat all three of your opponent's Axies.
Energy Burst
Players will be able to trigger an Energy Burst by collecting Energy Fragments. Each Energy Burst will increase a player's energy per turn by 1 permanently and every two Energy Bursts will increase a player's card draw per turn by 1 permanently.
The number of Energy Fragments required per Energy Burst is increased each time.
Player 1's First Energy Burst
Energy Fragments are collected by:
Using energy to play cards, Energy Fragments collected = played card's energy cost.
Using energy to [Keep] a card, except for the free [Keep] given on round 1.
From effects of Cards, Runes, and Charms
Your Opponent's Zones and Resources
The Second player has a slightly lower requirement for their first Energy Burst to compensate for going second.
The Energy Burst system will give players more options as the game goes on as well as allow players to focus on this game mechanic to ramp up towards midrange or late game strategies.
Some effects will allow players to consume Energy Fragments as part of their mechanics. Other effects will allow destroying or stealing of Energy Fragments as well.
Blood Moon
Blood Moon as a mechanic is meant to ensure that matches end in a timely manner. So how does this work? If by turn 17 the match is still ongoing, all Axies will have their Maximum HP permanently reduced each time a turn ends. Players will be unable to restore Max HP that has been reduced through healing. This achieves the goal of ending games inevitably, and the only way to delay this effect would be by increasing your maximum HP.
With this, Axies will ultimately need to be finished off through a player's actions in the end game. Furthermore, because an Axie's maximum HP is reduced, the value of cards will scale accordingly as Effective HP is lowered.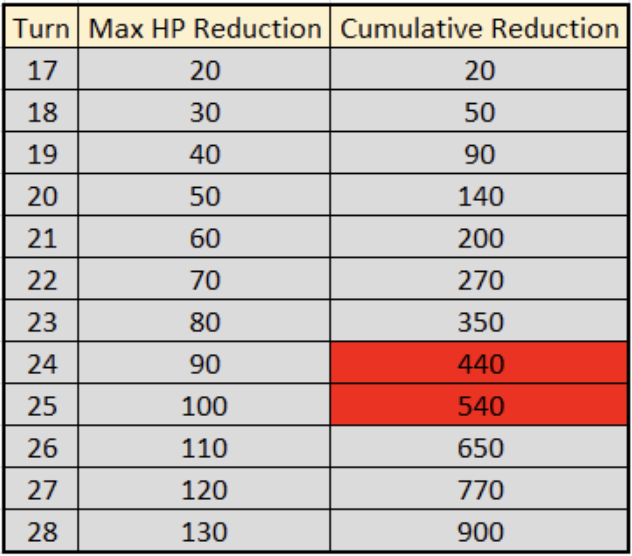 Blood Moon Damage progression
Current HP will be unaffected by Blood Moon except when Maximum HP is reduced below Current HP. In this scenario, Current HP will be adjusted to be equal to the new Max HP. Effectively, Axies that are already low on health will not be pressured by Blood Moon until the cumulative reduction reduces their HP below the current value.
Keep
This mechanic allows players to keep cards at the cost of energy should they wish to use them later on without hurting their tempo by slowing down their draws and effectively their deck reset cycles. Players will be able to set up larger hands to give themselves more options and potentially more actions during a single turn.