As Origins continues to evolve as a game, this article will serve as a guide for new trainers who are considering joining the fierce battles in Lunacia.
Note: This article will be updated accordingly whenever changes in the gameplay mechanics have been implemented. You may also want to refer to this article for the latest updates on the current season's patch:
https://support.axieinfinity.com/hc/en-us/articles/7996583338267-Origins-Season-5-Guide
Contents:
- Turn Selection & Rock-Paper-Scissors
- Keep
To become proficient in Origins gameplay, it's essential to familiarize yourself with the game mechanics and how they operate. Axie Infinity: Origins battles are centered around two primary game modes, as well as a friendly duel mode. These modes include:
Adventure Mode - Player vs enemy (PvE) mode where you battle against Chimeras.
Arena Mode - Player vs player (PvP) where you battle other players.

Practice - Unranked casual matchups without rewards.
Ranked - Competing in ranked matchups, with rewards being granted based on achieving a high rank on the leaderboard.
Blitz - Fast-paced unranked matches with 20 second timers.

Friendly duels - Friendly unranked matches against players on your friends list.

Note: All mechanics explained below are applicable to all Arena mode options but not all are significant or present in Adventure mode.
Turn Selection & Rock-Paper-Scissors (RPS)
RPS
Each battle starts with both trainers deciding on their turn preferences.
Note: Players below Boar rank will not be required to play RPS, and will be assigned first and second turn at random.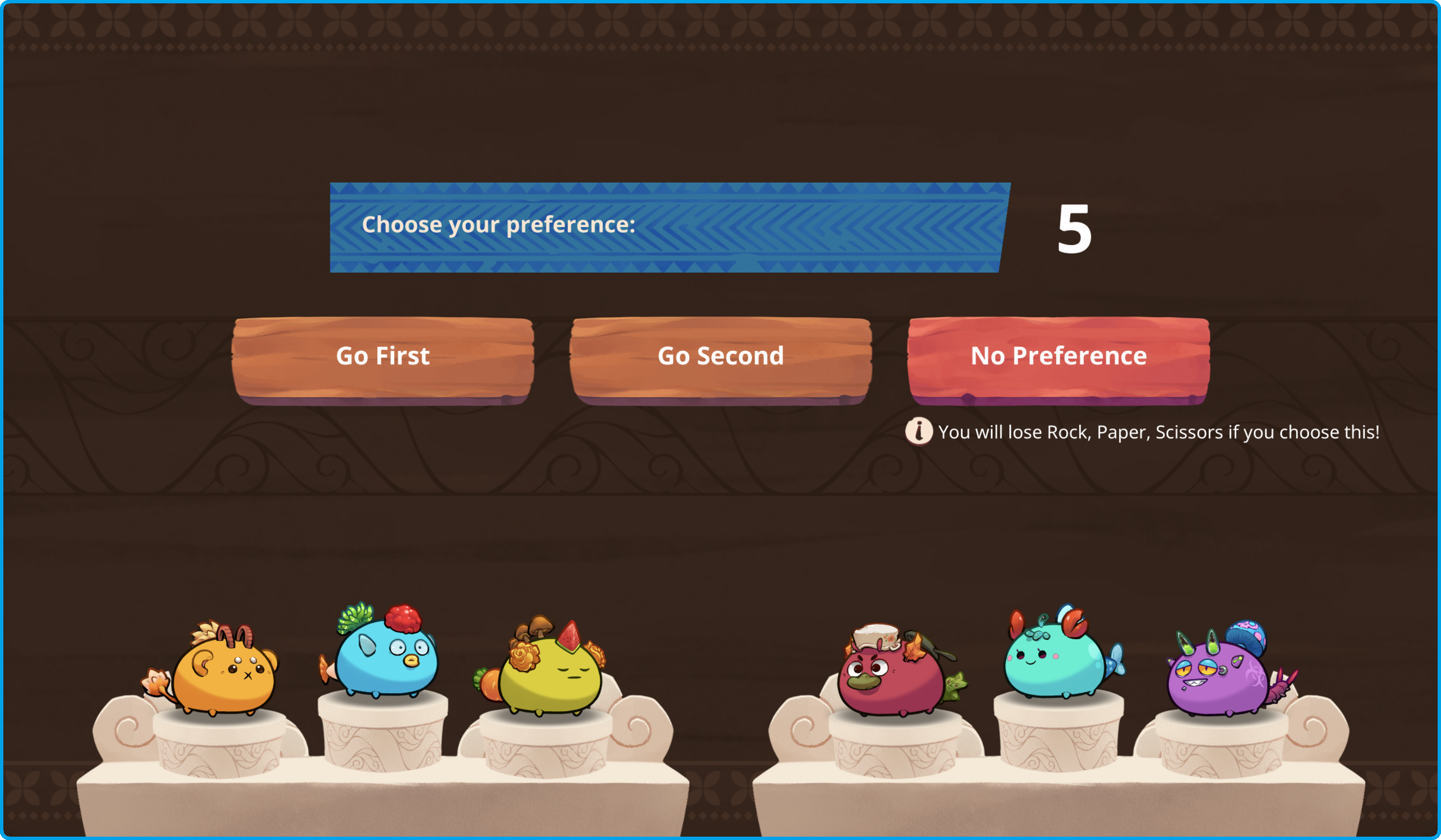 If both players choose the same turn preference (Go First or Go Second), a game of Rock-Paper-Scissors will be played to determine who will get their desired turn preference. The winner of the Rock-Paper-Scissors game will receive their intended turn preference, while if the game ends in a draw three times, turn preference will be assigned randomly for both players.
First Turn vs Second Turn
The player who goes first gains 1 Energy and draws 3 cards on their first turn
The player who goes second gains 2 Energy and draws 4 cards on their first turn
The player who went first gains 2 Energy and draws 4 cards on their second and third turn
The player who went second gains 3 Energy and draws 4 cards on their second and third turn
From this point on both players gain 3 Energy and draw 5 Cards for the remainder of the battle
Battle System
Sequential Turns
Players engage in battles by taking turns to play cards.
Cards and Energy
Each card requires a specific amount of energy to be activated. The energy-cost will be indicated on the card. Any card or energy that remains unused during a turn will not carry over to the next turn b y default.
Win Condition
The objective of a battle is to defeat all three of your opponent's axies in order to emerge victorious.
Energy Burst
Players can trigger an Energy Burst by collecting Energy Fragments. Each Energy Burst will increase a player's energy per turn by 1 permanently and every two Energy Bursts will increase a player's card draw per turn by 1 permanently.
The number of Energy Fragments required per Energy Burst is increased each time there is an Energy Burst.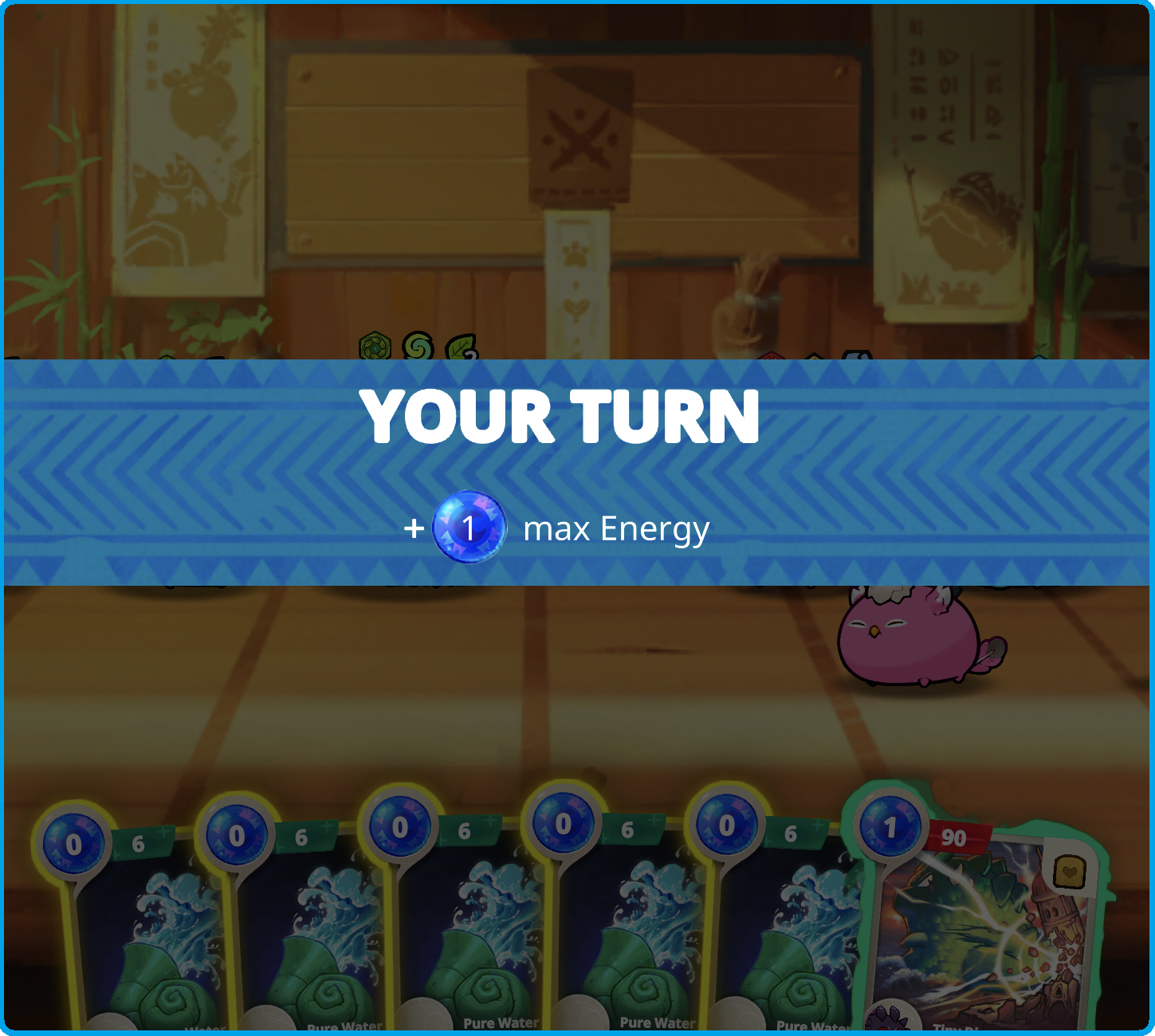 Player 1's First Energy Burst
Energy Fragments are collected by:
Using energy to play cards - Energy Fragments collected are equivalent to the energy cost of the card that was played.
Using energy to keep a card, excluding the free keep given in round 1.
Inherent traits/effects of cards, runes, and charms.
Unspent Energy at the end of turn is converted to Energy Fragment +1


Example 1: You have 1 unspent energy for the turn. You get 2 energy fragments.
Example 2: You have 2 unspent energy for the turn. You get 3 energy fragments.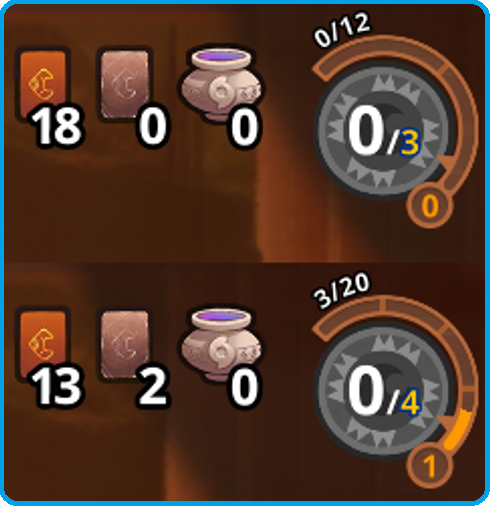 Your Opponent's Zones and Resources

The Energy Burst system offers players a broader range of options as the game progresses, while also enabling them to concentrate on this game mechanic to develop midrange or late game strategies.
Certain effects in the game will enable players to consume Energy Fragments as part of their mechanics, while others will allow the destruction or theft of Energy Fragments.
Team Health Bar
Introduced in the 5th Season's Epic era, Team Health Bar gives new users a cleaner understanding of "who's winning" at any point of the Battle. Similar to chess game analytics, the health bar serves as a guide to understand who's currently at an advantage.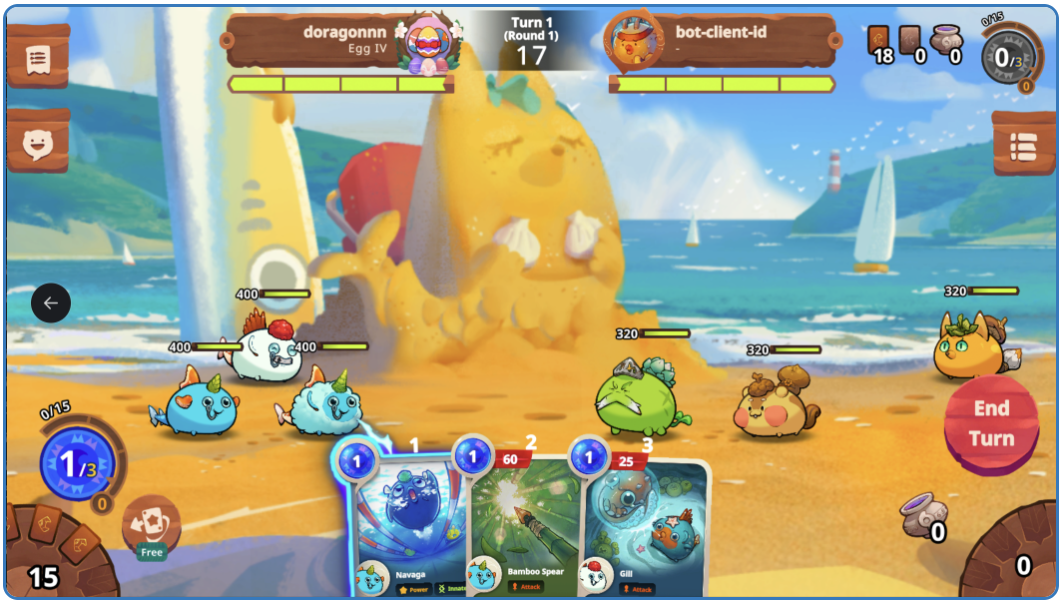 Blood Moon
The Blood Moon mechanic is designed to ensure that matches come to a timely end. If a battle is still ongoing by turn 16, Blood Moon will activate, causing a reduction in the maximum HP of all axies at the end of each turn. Players will not be able to restore the maximum HP that has been lost due to Blood Moon's effect through healing.
The aim of the Blood Moon mechanic is to bring the battle to an eventual end, and the only way to delay this effect is by increasing your axies' maximum HP.

With the current Blood Moon mechanism, the only way to end a battle victorious is to defeat all three of the opponent's axies through actions in the end game. Additionally, since an axie's maximum HP is reduced each turn, the value of cards will scale accordingly, as the maximum HP of axies is lowered.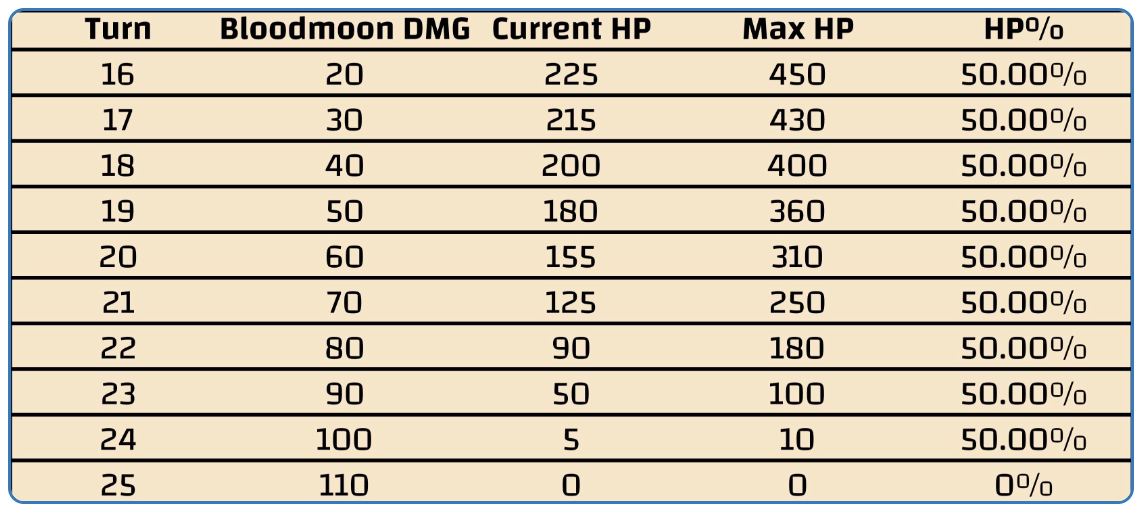 Blood Moon Damage progression
To clarify, the Blood Moon mechanic in Origins will only affect an axie's maximum HP, not its current HP, except in cases where the maximum HP is reduced below the current HP. When this happens, the current HP will be adjusted to match the new maximum HP.
The animation for Blood Moon will show each axie being affected one by one, starting with the opponent's closest axie and moving towards yours, to ensure that any effects triggered by an axie's death are resolved before the process continues. However, the Blood Moon effect will continue until it has damaged all axies, even if all of the opponent's axies are defeated during the initial animations.
Keep
Keep gives players the option to hold onto cards and save them for later, at the cost of using up energy fragments. With each Keep used in a turn, it will costs 1 more energy fragments. The cost will resets in the next turn.
This can be especially useful for setting up larger plays in the later stages of the game or for responding to unexpected situations. It also adds an element of resource management, where players need to balance the use of energy fragments to activate cards with the need to maintain a healthy supply of energy for future turns.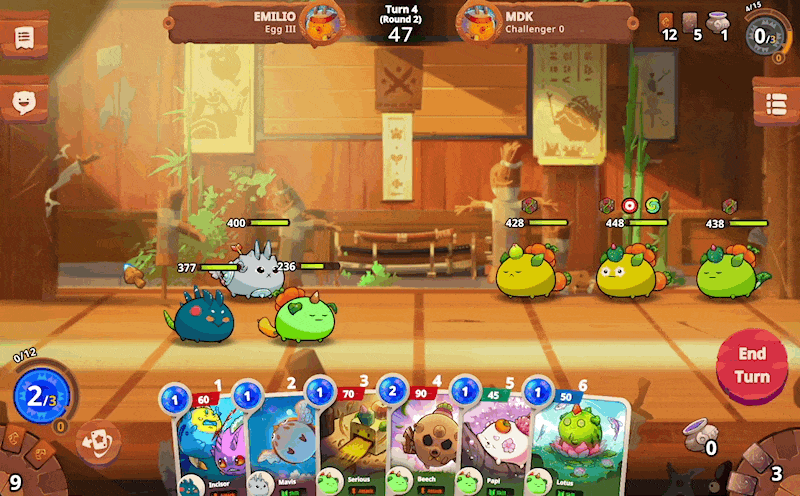 Quick Select Keys
You should be able to find the Quick Select Keys toggle option in the Settings. Toggling it will allow you to use set keyboard shortcuts for a more diverse gameplay experience.

X = Banish pile
S = Discard pile
A = Draw pile
H = History
E = End Turn
0-9 = (Number above cards) Shortcut to use them
ESC = Settings